Name of Activity:
Secret Handshake
Purpose of Activity:
To give students an opportunity to cooperate with each other in a physical activity setting.
Suggested Grade Level:
3-5
Materials Needed:
A small container with about 20 to 40 cards, each with a body-part word or action written on it, one word or phrase per card (examples: nose, elbow, twirl, knees, shout, jump, clap, skip, crab walk, karate kick, hop, jog, hands, etc.)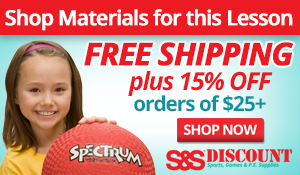 Description of Idea
Let students know this activity requires them to work together in a nice manner -- in other words, cooperate! They will have to try each other's ideas and, using nice language, come to an agreement on a "secret handshake".
To begin, have one child in the class reach into the small container containing the different phrases or words. The child pulls out three cards to be included in the "Secret Handshake" (though there is really nothing secret about the handshake.) The activity cards have one body part or motion on them. For instance, one card might say "hands", another "crab walk", and another "karate kick." The students are then paired up and given a few minutes to come up with their own personalized "Secret Handshake" using the three actions or body parts -- put into any order -- which were chosen at the beginning of the activity. The partners should be able to repeat their handshake at least three times with it looking the same each time.
At the end of a few minutes, have half of the class show off their handshake to the other half, then repeat so all students have had the chance to show their handshake.
Variations:
This is a great "getting to know you" activity to be done at the beginning of the school year!
For ideas on how to partner children up, see the Forming Groups ideas in PEC's Lesson Ideas sections.
Try separating the cards into three different containers, according to body parts (hands, tooshies, feet, elbows, etc.); actions (karate kick, twirl, explode, clap, etc.); and travelling actions (hop, skip, jump, slide, crab walk, etc.). Pair students up first, then have each pair pick one card from each container. (Each pair will most likely end up with cards different from other pairs.) After giving students time to practice, let the pairs show their handshake to others in the class.
Have students perform each part of their handshake in counts of 4 or 8 and then put it to music, thus creating a rhythmical sequence!
---
Submitted by James Wiesen who teaches at Jewish Day School in Bellevuw, WA. Thanks for contributing to PE Central! Posted on PEC: 9/20/2001.

Viewed 174764 times since 8/24/2001.
---
---
Previous Comments:
Leighton Beer

Awesome lesson plan kids loved it from prep to grade 6 they all get into it. Simple and easy to set up and no behaviour worries because they actually WANT to do it.

Thanks!

Michelle

This has got to be one of the best start of the year activities ever! It gets the children to work together, be creative, and they have a great time doing it. Thanks so much for the idea!

Mary Murillo

What a neat idea about turning this lesson into a disability awareness unit. I am currently a student studying to work with special needs children, but work with Regular Ed. for the time being in an after school program. I look forward to tying this out with them very soon!

Mikel Hansen

This could also be great lead into a disability awareness unit. Have students perform handshakes several times and perfect them. Now introduce challenges such as a blindfold to represent blindness or beanie bag in armpits to represent cerebral palsy.