Name of Activity:
Earth Day-Conservation Walk/Ride
Purpose of Activity:
Students will gain an understanding of the relationship between conservation of our resources and the use of other modes of transportation (walking, biking and rollerblading) while showing respect for their environment by picking up garbage in the area.
Prerequisites:
Students need to be proficient with rollerblading or biking, and have knowledge of the safety rules and procedures of those activities.
Suggested Grade Level:
6-8
Materials Needed:
rollerblades, bikes, helmets, garbage bags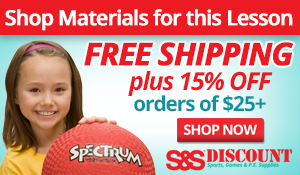 Description of Idea
As the class is gathered, review the safety rules regarding biking and rollerblading. (i.e., stay on the designated path, follow traffic rules, stay with a partner, etc.) Paths will be well marked either with signs or maps.
Explain to the students how they are practicing energy conservation by using alternative modes of transportation, and also benefiting their health by getting aerobic exercise.
Students will bike or rollerblade to a designated area near the school or around the community. When the destination is reached, the students will spend time picking up garbage and making the area look clean. The garbage bags should be left on the curb or roadside for someone to drive by and pick up.
Assessment Ideas:
The students will write in a journal about what they learned from this experience and how they can use what they learned in the future.
Adaptations for Students with Disabilities:
Students with disabilities may walk to the destination instead of rollerblade or bike. To help pick up garbage they may have another student help them, or use some type of extension that allows them to pick up things without having to bend over from the waist.
---
Submitted by Niki Justman who teaches at University of Wisconsin Stevens Point in Stevens Point, WI. Thanks for contributing to PE Central! Posted on PEC: 9/5/2006.

Viewed 13696 times since 4/20/2006.
---
---
Previous Comments:
There are currently no comments to display. Be the first to add a comment!