Name of Activity:
Jewel Thieves
Suggested Grade Level:
3-4
Materials Needed:
1 basket or crate, at least 2 soft objects per student or "thieve."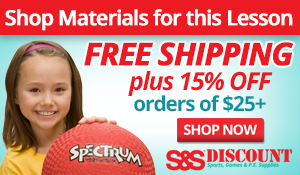 Description of Idea
This activity must be done walking at first as the locomotor choice of moving.
All but 3 students are jewel thieves. Three designated students are "guards" (roughly 1 guard for every ten jewel thieves, so there could be more than 3, depending on class size). The jewel thieves lost all of their loot while trying to escape from the guards. They must retrieve their loot and take it back safely to the hideout (which is inside center court).
The jewel thieves begin in the hideout (center court). The guards begin outside of center court. Soft objects (jewels) are placed around the outer boundry (sidelines and endlines) of the court. A crate or basket remains in center court. On the signal, the jewel thieves have to go and collect their loot, one piece at a time. If they are tagged by one of the guards while retrieving their loot they must freeze. Other students can free their "Jewel-mates" by crawling between their legs. Guards are not allowed inside center court at all. Once all of the "jewels" are retrieved the game is over. It can then be played again with a different set of guards.

---
Submitted by Stephen Koehler in East Stroudsburg, PA. Thanks for contributing to PE Central! Posted on PEC: 4/17/2004.

Viewed 178379 times since 3/1/2004.
---
---
Previous Comments:
| | |
| --- | --- |
| Dan | I work at a catholic school and our young ladies have to wear skirts, so going between the legs is not realistic. So my adaptation is having the other thieves face the frozen thieves and grab hands while they jump up and down 5-10 times and then that is what unfreezes them. |
| SMDS BOBCATS | Great game... awesome.. my kids loved it... Got them moving and involved by working as a team to get the jewels. Great!!!! |
| shanice | i like the idea see u next time |
| matt | |
| riley | i love this game but i not gouing uner peoples legs |
| SR | This seems like it would be a very fun variation! I'm sure kids would love it! |