Name of Activity:
Snow Man
Purpose of Activity:
Students will gain skill (ball rolling) and reinforce other concepts noted above.
Suggested Grade Level:
PreK
Materials Needed:
Blue bulletin board paper - approx. 5 feet, White bulletin board paper - approx. 5 feet (cut into 3 "snowballs" to build snowman), Construction paper to make Snowman parts (i.e., Hat, eyes, nose, buttons, scarf, arms), 3 playground balls (large, medium, small), Glue stick. A picture of a snowman may also be helpful so that children can be cued from a visual model.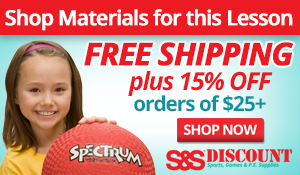 Description of Idea
The children sit in a circle. Start with the largest ball. The first child rolls the ball across the circle. Encourage each to call out the intended receiver's name. Also encourage eye contact and control of the ball as it is rolled. Take turns rolling the ball until everyone has had at least one contact. Roll the ball back to first student. Choose the paper "snowball" that matches the size of the ball. Decide if it is large enough for the base of a snowman. Paste this to bottom of the blue paper. Continue with the medium and then smallest ball, building your snowman.
When the snowman is complete, sing the "Head, shoulders, knees, and toes" song to reinforce body part identification.
Variations:
Give the snowman eyes, mouth, nose.
Discuss how many buttons he needs, how many arms, and other things he might need (hat, scarf).
Assessment Ideas:
Observe for control of ball rolling
Assess correctness of body part identification
Assess appropriateness of suggestions for other additions to the snowman's "body"
---
Submitted by Janice Pauc who teaches at Orchard Lane Elementary School in New Berlin , WI . Thanks for contributing to PE Central! Posted on PEC: 5/24/2001.

Viewed 106636 times since 8/24/2001.
---
---
Previous Comments:
There are currently no comments to display. Be the first to add a comment!