Name of Activity:
Fitness Fun With Mats
Purpose of Activity:
Be able to cooperate with others in order to accomplish group tasks.
Prerequisites:
Some experience with ice breakers, cooperation, or problem solving activities.
Suggested Grade Level:
6-8
Materials Needed:
Gym mat per group.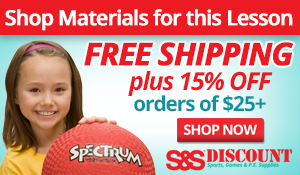 Description of Idea
In groups of 5-10, students work together to manipulate a gym mat. Following are three suggested challenges.
Challenge 1 - Groups of 5 move the mat across gym. Students may not touch the floor and must stay on top of the unfolded mat.
Challenge 2 - Begin with the mat folded and all students on the mat. They must unfold it without touching the floor. If they succeed in unfolding the mat, have the students refold the mat without touching the floor.
Challenge 3 - Groups of 10 (combine 2 groups) move across the gym using two mats.
Following the activity, hold a debriefing session with the groups and discuss communication, cooperation, or other relatd and important topics.
Assessment Ideas:
Encourage them to watch others, take their ideas, but improve on them. Have them write in their journals about how they worked in a group setting.
Teaching Suggestions:
Add more students to a group to make the challenge more difficult.

Designate one section of the mat that may not touch the floor.
---
Submitted by Brad Haas who teaches at Belle Plaine Middle School in Belle Plaine, KS. Thanks for contributing to PE Central! Posted on PEC: 10/1/2001.

Viewed 150238 times since 8/24/2001.
---
---
Previous Comments:
Ally
Bri

what kind if mats did you use?

Kim Kline

I tried this activity with my 4th grade. They loved it, but it was challenging?

What way did your kids(or you) find worked the best?

Stacie

I just used this in my class this week. The students LOVED it. It actually took a lot of thinking for them to accomplish the tasks and they got some great exercise! We were all laughing and working so hard!

ferhgdr
Amanda

I found some good tarps at home depot that worked wonderfully for this activity. I used it at the beginning of the year and they loved it. I then used those mats to play cooperative volleyball. I split the groups into four people per a mat and they must catch and get the ball back over the net (or I used half courtline) in three catchs/throws. They enjoyed this because with such large numbers we could not play a regulation volleyball game

Fernando

Thanks for the idea, i will try it.