Name of Activity:
Halloween Locomotors
Purpose of Activity:
As an instant activity, to practice various motor skills, creative movement and the use of self space/general space.
Prerequisites:
Review what is meant by self-space and general space.
Suggested Grade Level:
K-2
Materials Needed:
None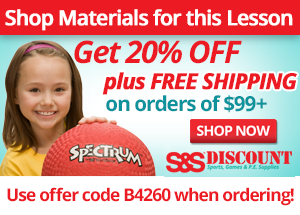 Description of Idea
Have students spread out in the gym, finding their "self-space." Explain to them that they will be moving around the gym, pretending to be "trick-or-treaters." Review that the general space, the gym, is the space shared by everyone and that they must maintain their "self-space" and not bump into anyone. Tell the students that you will be naming a Halloween costume, and they need to move around the gym as though they are that character. For example, if the teacher says "bat", the students will move around the gym flapping their arms. When the teacher yells "BOO!" all students must run to the sidelines and listen for the announcement of the next costume. Students enjoy movement and using their imagination, so encourage them to think of other Halloween costume ideas and demonstrate them.
Ideas for costumes include:
Marching Band- marching
Cowboy- galloping
Bat or Airplane - walking with arms flapping
Cat- crawling
Mummy - walk straight and stiff
Monster- walking with arms out in front like Frankenstein
Cinderella - dancing and twirling around
Harry Potter - riding a broomstick

Variations:
Students make up their own costume ideas while other classmates try to guess what they are.

Assessment Ideas:
Watch for locomotor techniques and use of space. When the activity is done, as the following questions:
What locomotor activities did you perform?
What did you do to stay in your "self-space?"
Adaptations for Students with Disabilities

Have students partner up to create a costume.
Submitted by Becky Ryan who teaches at Stiles Elementary School in Rockford, IL. Thanks for contributing to PE Central! Posted on PEC: 10/20/2003. Viewed 72106 times since 10/1/2003.
Halloween Locomotors

---
Previous Comments:
There are currently no comments to display. Be the first to add a comment!
---
---