Name of Activity:
Create-A- Line Dance
Purpose of Activity:
This lesson serves as an assessment demonstrating students' understanding of the processes, principles, and structure of line dance. Through original choreography, students apply their knowledge of previously learned line dance elements. This lesson fulfills National Standards: 1, 2, and 4.
Prerequisites:
Prior to this lesson the students should have experienced several different line dances and become familiar with the structure of a line dance and the movement elements included, such as scuff and grapevine. I had previously taught the "Elvira", "Hill Billy Lion", Western Slide", and the "Lindy Lou" to the students.
Suggested Grade Level:
9 - 12
Materials Needed:
Stereo, boom box, pencil and paper for each group, posters explaining movement elements learned thus far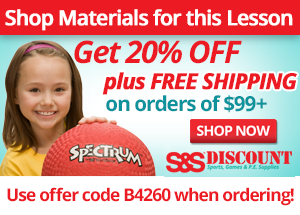 Recommended music:
Any music with a steady, clear beat may be used. The following have worked well. Shania Twain - Come on Over cd - Track 3 - "Love Gets Me Every Time" (Tracks 1, 3, and 4 are all great for line dancing) I also encouraged students to bring in any music they would like to perform their dance to, screened beforehand by myself of course, as line dancing can be performed to any music, as long as there is a steady beat.
Beginning dance formation:
Students are divided into groups of three or four. Groups are scattered throughout the gymnasium space as they work to choreograph their line dances.
Description of Idea
Students are given two class periods to work together as a group (cooperative learning), and choreograph their own line dance. More or less time may be needed depending on the length of class and the experience level of the students. The music used for the dance should be played on repeat so the students choreograph and rehearse with the performance music and can make sure their choreography works well.

Students will be given a list of criteria which must be included in their dance. They must…
* implement moves learned from previous dances taught in the unit, (such as a scuff, a vine, a hip bump, etc).
* have four transition steps so they face each wall throughout their dance.
* add a unique movement or personal touch.
During the performance phase of the lesson, students will be asked to be critical observers of the other groups. As polite audience members they are expected to applaud after each group performs. They should watch for several specific criteria.
*Which movements are utilized that were previously learned?
*What unique movement was added?
*Did the dance have a clear transition between facings?

Variations:
Students could be asked to add additional criteria such as:
*a half time/double time element
*a level change
*a sound making element (snaps, claps, stamps, etc.)
*a specific number of counts used while facing each wall
Students could be videotaped and asked to critique their own dances.
This format could be used for any dance style if criteria are changed. This was the unit I had while student teaching at the high school level, just line dancing.
Assessment Ideas:
Teacher can assess students on rhythm, on utilization of previously learned movement elements, on cooperative work within a group, and on cognitive knowledge of dance steps by having each student complete a write up of their dance.
Adaptations for Students with Disabilities

Use a drum beat or hand clap to emphasize the beat for any students with hearing impairment.
Students who are wheelchair bound can be aided by another student, if necessary. Each student's needs and abilities are different so adjustments need to be made individually.
Students who are developmentally challenged should have the performance criteria modified.
Submitted by Christopher Scholz who teaches at Saugatcuk Elementary School in Westport, CT. Thanks for contributing to PE Central! Posted on PEC: 1/26/2008. Viewed 60182 times since 9/10/2003.
Create-A- Line Dance

---
Previous Comments:
| | |
| --- | --- |
| Annatasia | I love dancing, i like those steps |
| Kathryn banks | |
---
---