Name of Activity:
Finding NEMO
Prerequisites:
Students should have good space awareness and previous experience with chasing, fleeing, dodging.
Suggested Grade Level:
2 - 5
Materials Needed:
1-2 green hula hoops, 2-3 blue hula hoops, Pinnies: 1 orange, 1 blue, 3 red.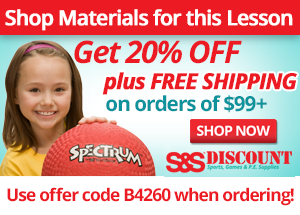 Description of Idea
Arrange the hula hoops so that the two blue are together on one side of the gym and the green is on the other side opposite the blues. Explain to the students that Nemo is lost. Marlin, Nemo's father, who is a orange clownfish (orange pinnie) and Dory, Marlin's friend, a blue fish, (blue pinnie) are trying to rescue Nemo out of a fish tank (blue hoops) and bring him back to the ocean. BUT there are many dangerous fish that Nemo, Marlin and Dory need to watch out for (3 red pinnies).
Here's how to play:
Pick students to be:
Marlin (orange pinnie)
Dory (blue pinnie)
3 Dangerous fish (3 red pinnies)
Marlin and Dory start at the green hula (their home). The dangerous fish are trying to gently tag the rest of the class (NEMOS). If tagged they must go to a blue hula (fish tank). Marlin and Dory's job is to free (tag on the hand to re-enter the game) any Nemo in a fish tank without getting tagged by the 3 dangerous fish.
Marlin and Dory are only safe in their home and can't be tagged by any dangerous fish there. The game is over when the 3 dangerous fish capture BOTH Marlin and Dory. If the 3 dangerous fish are having a hard time tagging BOTH Marlin and Dory stop the game and change positions (Marlin, Dory, Nemo, and Dangerous Fish).
Variations:
Begin this game with ALL fish walking until students get the concept of the game and to ensure safety. Vary locomotor skills: galloping, hopping, sliding, skipping.
Have fish use a variety of strokes (i.e., crawl, back, breast, butterfly).
Submitted by Lisa Galske who teaches at Greene-Hills Elementary School in Bristol, CT. Thanks for contributing to PE Central! Posted on PEC: 7/9/2003. Viewed 65590 times since 6/5/2003.
Finding NEMO

---
Previous Comments:
| | |
| --- | --- |
| lola | |
| christine baccarella | |
---
---