Name of Activity:
Team Bowling
Purpose of Activity:
To allow students to practice cooperative skills. To refine the skills of rolling and catching. Moving to open space.
Activity cues:
Rolling: step with opposite foot, bend knees and lower to the ground, release ball close to floor. Catching: watch, reach, and pull to absorb the ball's force, ball up high fingers to the sky, ball down low fingers toward the ground. Moving to open space: Move away from defenders.
Prerequisites:
Students have participated in small group activities and have been taught the concepts and benefits of working together. Students have been taught the skill cues for rolling and catching and have practiced these skills. Students understand the concept of moving to open space.
Suggested Grade Level:
3-5
Materials Needed:
Materials needed for one game: 20 plastic bowling pins or 2 liter soda bottles, jerseys, 2 to 3 gator skin or foam balls, cones or painted boundaries.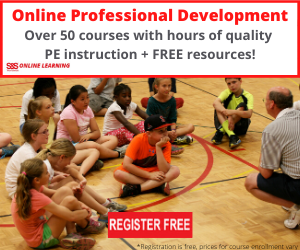 Description of Idea
This game is best suited for small teams of 5, which will allow 2 or 3 games to be played at a time depending on class size. Use existing boundary lines and/or cones to define the boundaries and pin area for each game. The boundaries of the games should be adjusted to maximize the use of your space and allow for the greatest number of games to be played simutaneously.
Divide the players into 2 teams (5 players per team) and give all players a jersey. Each team consists of 4 "Rovers" and 1 "Pin Keeper". Rovers are responsible for passing the ball(s) to their teammates, knocking down the other team's pins, protecting their team's pins, and returning their team's pins to the pin area if they are knocked out. Rovers may not enter the pin area. Pin Keepers are responsible for protecting the pins, and making occasional outlet passes to their teammates. At the start of the game the Pin Keepers may arrange the pins any way they would like as long as they are within the pin area.
The game is started with the Pin Keepers passing the balls out to their teammates who begin the game on their half of the court. Players pass the ball and knock down the pins by rolling the ball across the floor. Players may NOT use a throw or toss. Rovers should be encouraged to move to an open space when awaiting a rolled pass. Upon receiving the ball a player is allowed to take 2 steps to control forward momentum and then he or she must pass or shoot the ball. Rovers and Pin Keepers are allowed to block passes with their hands and/or feet. When using feet to block the ball students should be encouraged to trap the ball like they would in soccer. Team Bowling is not a contact sport. Players who initiate physical contact will lose possession of the ball.
Players are encouraged to regulate their own game, but if needed a teacher or instructional aide can act as referee. The emphasis in Team Bowling is who can keep their pins standing for a longer period of time. once one teams pins are all down, reset the pins and play again with new Pin Keepers.
Variations:
To promote passing consider requiring a team to make a certain number of passes or require that all team members touch the ball before a team may roll it at a pin.
Don't allow students to block with their feet to promote catching with their hands.
Assessment Ideas:
Students may write in their reflective journals: What did you do to encourage your teammates? How could you have done a better job showing your teammates appreciation? Did your teammates encourage you and how did it make you feel?
Teaching Suggestions:
Since this is a cooperative activity, the teacher should promote clear positive communication among teammates. Communication is the key to the team being successful.
Adaptations for Students with Disabilities

This activity has been used with students who have mild to severe disabilities. Plus, this activity has been used with students in inclusive classes grades 3-6. For students who are in wheelchairs there are no modifications.
Submitted by Bruce Davey who teaches at Stanislaus County Office of Education in Modesto, CA. Thanks for contributing to PE Central! Posted on PEC: 4/19/2004. Viewed 215439 times since 5/27/2003.
Team Bowling

---
Previous Comments:
Obvious

ATM Teacher

26 students. How tough. I hope one day you never work in a city school where we have 30+. With 26 you can have 4 teams of 5 with one team having a 6th student (no biggie). Set up 2 courts. At this age level an extra person isnt a big deal.

Also it says in the instructions to have students set up the pins themselves. "At the start of the game the Pin Keepers may arrange the pins any way they would like as long as they are within the pin area". This is how students communicate strategy and implement teamwork.

Next time try reading the instructions before commenting.

ATMTeacher

How many people only have 10-15 students per class? I average about 26. Also, where and how are the pins placed? This seems okay, but I have no idea how to set this up in a normal gym class.

Peter B

The game was super active and works well for groups possessing good skill level. I used throwing for passes and bowling for shots at the pins. I felt as though throw/catch for passing is more realistic for skills in other games/sports (handball, football, ultimate, etc.)

LAF

Since the diagram is not available to visualize it, dimensions could be stated to claify. We play blacktop bowling and use the same area width as two tennis courts with the middle line locating the center of the courts (no net of course). Pins are placed at the end of the court line marked with chalk as an X.

michele bowman

Adaptations for students with disabilities in wheelchairs are bowling ramp, can put mat on their legs, use scoops to help roll. there is always ways to adapt for anyone!!!!!

S.J.

I agree, a diagram or description of where to put pins is necessary. Also, do rovers have to stay on their side of the court at all times? If the pins are in the middle of one's half court, can the other team go behind them to score?

Team Bowling

This activity needs a diagram!!! It sounds fun but I'm having a lot of trouble understanding who does what.
---
---