Name of Activity:
Valentine Volley
Suggested Grade Level:
K-2
Materials Needed:
1. Laminated hearts (approx. 4.5" x 5") pink & red--Enough for the entire class.
2. Cut the hearts down the middle in one of three pathways; straight, curved, or zigzag.
3. Velcro, tape, or clothes clips to attach hearts to clothing or wall when traveling
4. Balloons/lightweight objects
5. Poly Spots
6. Music or drum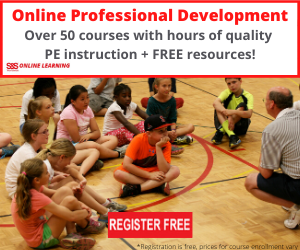 Description of Idea
1. Students choose one half of a heart and a balloon at random.
2. Students then spread out in general space and begin traveling on the teachers signal or music beginning in general space with their balloon in the pathway given on edge of their heart.
3. On the teachers signal students move and safely find someone else who shares the same pathway by matching connecting edges (thus, completing a heart).
4. When students have found a partner, they will find a poly spot (self space) and watch each other complete five "flat surface" volleys in a row without dropping the balloon and practice "assessing" each other on "flat surfaces" (that's the cue we've been focusing on with K-2). Students may remind their partner to use "flat surfaces"
5. Before music begins again, students will have the opportunity to trade heart halves with someone else in order to practice traveling in a different pathway.
6. When music begins again, students will begin traveling in general space with their balloon.
**Note: when students are traveling or volleying, they may clip the heart half to their clothing, Velcro or tape to their clothing, or put in pocket**
Teaching Suggestions:
* Remind students to "keep their head up" when traveling for safety
* Students should stay on or near a poly spot when volleying with a partner
* Make sure to round-out edges and points on hearts so as not to hurt a child (laminated objects can injure!
Adaptations for Students with Disabilities

- Students in wheelchairs can be fully included in this activity, especially when using balloons.
- Students who have difficulty controling hand and/or arm movements may use other parts of the body (i.e. head, elbow, knee, etc.)
- Students who have trouble with sight can let the balloon/ball bounce once before attampting to volley again--also, you may use larger balls/balloons for the visually impaired.
Submitted by Shannon Sharp who teaches at Tennessee Tech University -- Student Teacher in Brentwood, TN. Thanks for contributing to PE Central! Posted on PEC: 2/13/2003. Viewed 67388 times since 2/13/2003.
Valentine Volley

---
Previous Comments:
There are currently no comments to display. Be the first to add a comment!
---
---