Name of Activity:
Jump Rope Tag
Prerequisites:
Students need to be able to do the basic bounce and have an introduction to the basic jump rope skills.
Suggested Grade Level:
3-5
Materials Needed:
8-12 jump ropes depending on the size of the activity area and the number of students, music and stereo system, jump rope skill cards 4 poly spots or cones.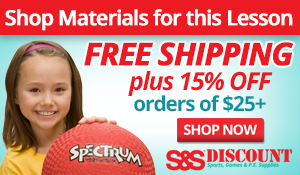 Description of Idea
The activity area is divided in to two sections. The first section is the "tag/practice area" and the second area is the "Jump Rope Practice area". In the tagging areas the players are to try to avoid the 4 designated taggers - red, yellow, blue and green. They may be safe by dodging and fleeing or, when a tagger approaches, by doing the designated jump rope skill (skier, bell, straddle, etc.) with their "invisible" jump rope. They may only be safe for 10 jumps and the taggers cannot guard.
If a student is tagged, he/she goes to the jumping area where there are two skill cards by each spot/cone. The tagged students pick up a rope and they perform 10 jumps of one of the skills at the cone that matches the color of the tagger who tagged them. After completing the ten practice jumps, the jumper re-enters the game.
Variations:
Changing the locomotor skills for the tagging part of the activity, as well as the safety skill keeps the activity exciting and gives a workout to more muscle groups.
Assessment Ideas:
As a group at the beginning (pre-test)and at the end (post-test) of the activity have all students get an individual rope and call out the names of the skills for the day. Do a visual check to see how the class performs as a whole.
Have the students put together a routine that uses the 8 skills being focused on for the day and perform to music at the end of the class.
Use a spreadsheet (either hard copy, PC or Palm) to keep a record of successful performance during the activities.
Teaching Suggestions:
Have students designated as teachers helper for students who may not have as much skill or experience. These students can work with students who need more time and assistance.
Some students may need to do the skills without the rope. The cones could be with a rope, the spots without a rope.
There may be a need for some students to try the skills in a long rope to either accomodate those who have a hard time self turning a short rope or those who need to be turners due to mobility disabilities.
---
Submitted by Si Espinoza who teaches at Columbine Elementary School in Grand Junction, CO. Additional authors for this idea were Allen Russell. Thanks for contributing to PE Central! Posted on PEC: 2/17/2003.

Viewed 148523 times since 2/3/2003.
---
---
Previous Comments:
| | |
| --- | --- |
| Jimmy | The complexity of this sport may be difficult to ill minded students but over time i have observed that the adaptive proscesss of the human mind takes over the |
| Joshua Guthrie | |