Name of Activity:
Yoga Tag
Prerequisites:
Yoga movements: Downward dog, warrior triangle. Ability of students to move through open space.
Suggested Grade Level:
3-4
Materials Needed:
Soft foam frisbees to hold so they can tag with it.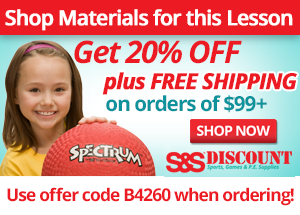 Description of Idea
Students spread out into personal space. 2-3 taggers are then chosen and given Frisbees. The taggers can't throw the Frisbees, only tag with them. The teacher then decides which yoga move the students who are tagged will do. If a student is tagged he/she freezes in that designated yoga move: the warrior, triangle or downward dog. In order for a frozen student to get back in the game another student who is not frozen must help them. They must crawl between the frozen students legs from front to back when using the warrior or triangle. When using the downward dog, crawl from one side to the other. Students who are helping frozen students back into the game can't be tagged. Change taggers after a minute or so.
Teaching Suggestions:
Make sure the frozen students are doing the yoga moves properly. Our students sometimes move their legs out too far or keep them too close during their yoga movements.
Observe students moving to open space.
We also try to reinforce tag game strategies such as getting rest when you can during the game (finding a place where no taggers are and watching with eyes to locate taggers).
Adaptations for Students with Disabilities

Wheelchair bound students who are tagged are freed when another student stops in front of them, then hops or jumps around them and then gives them a high ten. Students in wheelchairs who are taggers are given foam noodle to tag with.
Submitted by Scott LaRock who teaches at Cherry Brook Primary School in Canton, CT. Additional authors for this idea were Shawn Marzano. Thanks for contributing to PE Central! Posted on PEC: 2/3/2003. Viewed 38384 times since 1/30/2003.
Yoga Tag

---
Previous Comments:
There are currently no comments to display. Be the first to add a comment!
---
---