Name of Activity:
"What kind of animal are you?"
Purpose of Activity:
The purpose of the activity is to identify the different types of movements people and animals make in their everyday life.
Prerequisites:
general knowledge of animals and types of movement and flow - (free and bound)
Suggested Grade Level:
K-1
Materials Needed:
animal flash cards; a children's book about animals; music; stuffed animals (optional)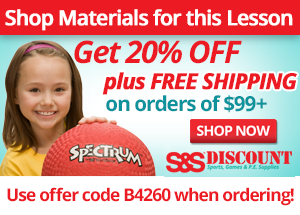 Recommended music:
circus music
Description of Idea
The teacher will begin the lesson by asking the students about their favorite pet or animal. (S)he will comment on the types of movements animals make and describe to the students how we make some of the similar flow patterns. The teacher will then explain free flow (ex. monkey swinging) and bound flow (ex. elephant stomping).
The teacher will continue by reading the book to the class, stopping at every animal and asking the class, as a whole, to demonstrate the movement it might make.
The teacher will then pass out flash cards with a different animal on each card. To music, the students will act out the movements of the animal. When the music stops the students swap cards with each other, and continue with the activity when the music starts again.
Assessment Ideas:
Ask the students questions throughout the class about what types of movements the animals make.; Hold up a stuffed animal and have the children, as a group, demonstrate the appropriate movement activity.
Submitted by Matt Medlin who teaches at Georgia College and State University in loganville, GA. Thanks for contributing to PE Central! Posted on PEC: 1/31/2003. Viewed 111355 times since 1/28/2003.
"What kind of animal are you?"

---
Previous Comments:
There are currently no comments to display. Be the first to add a comment!
---
---