Name of Activity:
Stuff the Turkey Tag
Prerequisites:
The ability to move safely in general space; to change speed and pathways to avoid others; skill work in throwing underhand to a target.
Suggested Grade Level:
1-2
Materials Needed:
8 poly spots; 1 milk crate (or similar type container); a picture of a turkey to attach to the container; 8 bean bags (koosh balls, yarn balls, etc.); cones to mark the boundaries of your play space; 4 pinnies.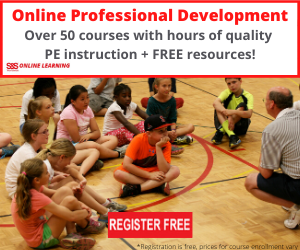 Description of Idea
Use cones to mark off a safe activity area. Select 4 students to be the "Pilgrims" and designate them with pinnies. On your signal the activity begins with the locomotor skill of walking. If a student is tagged by a "Pilgrim", they must leave the game and go "stuff the turkey" for Thanksgiving dinner. The way this works is the tagged student goes to the outside of the area, picks up a bean bag, stands on one of the several poly spots that encircle the milk crate ("Turkey" which is as far away as you wish it to be), and underhand throws the bean bag into the crate. If the student misses the crate, they have to retrieve their bean bag and continue trying until they successfully get it in the crate ("stuff the turkey"). Once they have "stuffed the turkey", they may return to the game. After a few minutes choose new Pilgrims and play again.
Assessment Ideas:
Observe students' ability to underhand throw to a target.
Observe students' ability to move safely in general space.
Submitted by Angie Wutke who teaches at Killearn Lakes Elementary in Tallahassee, FL. Thanks for contributing to PE Central! Posted on PEC: 11/24/2002. Viewed 97283 times since 11/22/2002.
Stuff the Turkey Tag

---
Previous Comments:
There are currently no comments to display. Be the first to add a comment!
---
---