Name of Activity:
The Mystery Passing Game
Purpose of Activity:
To provide students with ample practice for passing skills in a team setting.
Activity cues:
Basketball Chest Pass
,
Basketball Bounce Pass
,
Inside Of The Foot Soccer Pass
Prerequisites:
Knowledge of the purpose of passing in team games needs to be discussed. If using this as a part of a particular unit (i.e. soccer), then knowledge of the inside the foot pass is also needed.
Suggested Grade Level:
4-5
Materials Needed:
One ball for each team of three players, poly spots, index cards with numbers ranging from 8-20 on them, upbeat music.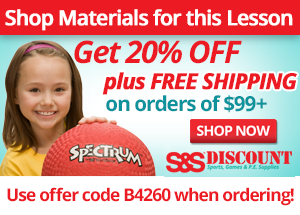 Description of Idea
Squares (10' x 10') of 4 poly spots are arranged around your area. Arrange students in teams of three who stand on a poly spot. In each group there will be one open poly spot. In the center of the square is the ball. Under one of the poly spots is an index card (the mystery pass number).
Before you start, the team needs to find their "mystery pass number" under one of the dots. The "mystery pass number" is the number of successful passes a group must accomplish before the music interval stops.
Explain to the students that in team sports one of the important skills is to keep moving after you have passed the ball. This gives you a better chance of getting open for another pass. After a player passes, they move to the open dot.
Explain to the teams they will have a certain amount of music time to make the mystery number of successful passes. If they are able to complete it before the music stops they will move to a new area when the music stops. After each round of music, each successful team moves to another set of dots to complete another mystery number passing. The unsuccessful teams stay at the area for a second turn.
Assessment Ideas:
While the activity is going, I observe their passing skills and whether they move after making the pass. It is so common for this age to watch instead of move.
Teaching Suggestions:
For students who are having trouble passing to all teammates, have them create a passing order to follow so all will be included.
Submitted by John Gaddy who teaches at Conn Global Communications Magnet School in Raleigh, NC. Thanks for contributing to PE Central! Posted on PEC: 11/12/2002. Viewed 138414 times since 10/30/2002.
The Mystery Passing Game

---
Previous Comments:
| | |
| --- | --- |
| christine baccarella | On Monday I about to begin a unit on basketball skills and games. This gives me something "new" to do for passing and receiving a pass while the students continue to MOVE!!! And the whole class is active! Thanks |
---
---