Name of Activity:
The Secret Basket
Purpose of Activity:
To review specified movement concepts and skill themes.
Prerequisites:
The particular skill themes or movement concepts must have been taught prior to this activity.
Suggested Grade Level:
3-5
Materials Needed:
Materials needed are based on what activities are in the secret basket. A good selection would be: jump ropes, hula hoops, playground balls, rackets/paddles and balls, juggling equipment, etc.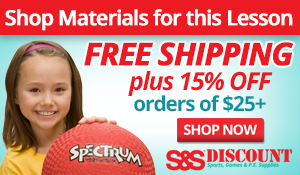 Description of Idea
This activity does involve setting out a lot of equipment. Selected activities, such as: jump a self turned rope, hula hoop around waist, do "ups" with a tennis racket and ball, dribble in general space with your feet, dribble in general space with your hands, juggle the cascade with three scarves, etc.
Each activity is written on a separate index card and folded, then placed in the a plastic basket or bucket. Select a student to pull a card from the basket. The student reads the card to the group, the group discusses particular cues and safety, then the whole group does the activity or task. I have used several of these acitivities or sometimes, just one. After completion of the activity or task, another student may choose. One could also include favorite fitness warm-ups or management protocols. The students seem to like the "surprise element" of not knowing what they will pull, or sometimes what activity is in the basket.
Variations:
Can be used to practice the PE Central Cooperative Skills Challenge.
Have students submit favorite tasks to the basket.
Assessment Ideas:
Place tasks in the basket which reflect the skills to be assessed.
Assess the management protocols (such as lining up for fire drill or getting drinks) using the Secret Basket.

Adaptations for Students with Disabilities:
Each card would have appropriate activities for students with disabilities so that there would be a choice.
---
Submitted by Debbie Summers who teaches at Fox Chapel Elementary in Germantown, MD. Thanks for contributing to PE Central! Posted on PEC: 10/28/2016.

Viewed 58673 times since 9/18/2002.
---
---
Previous Comments:
There are currently no comments to display. Be the first to add a comment!