Name of Activity:
Musical Line Movements
Purpose of Activity:
To work on balance by traveling along lines on the floor; and by starting and stopping a variety of locomotor movements with control.
Suggested Grade Level:
PreK-1
Materials Needed:
Upbeat music, boom box, lines to move on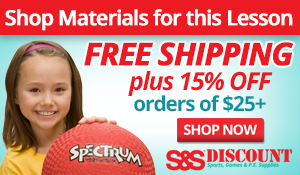 Description of Idea
Children find a spot on any line on the gym floor. Allow a reasonable amount of time, then instruct them to "freeze." Start the music. The children walk forward, following lines on the floor. Stop the music. The children freeze like statues. Comment on the "great statues" as they freeze without moving. As the activity continues, challenge students to travel on the lines using different locomotor skills.




Variations:
Challenge students to travel in different directions along the lines.

Use music with different tempos and ask students to match that speed.

Assessment Ideas:
Note the students who lose their balance or are unable to stop with control when the music stops.

Watch for correct execution of fundamental locomotor skills.

---
Submitted by Carol Irwin who teaches at St. Mary's Episcopal School in Memphis , TN . Thanks for contributing to PE Central! Posted on PEC: 5/24/2001.

Viewed 159236 times since 8/24/2001.
---
---
Previous Comments:
There are currently no comments to display. Be the first to add a comment!