Name of Activity:
Buggy Rides
Purpose of Activity:
To help Pre-K children learn to work together and use appropriate social skills.
Suggested Grade Level:
PreK
Materials Needed:
2-4 medium sized rectangular-shaped laundry baskets with a looped rope (about 3 feet long) attached to one handle.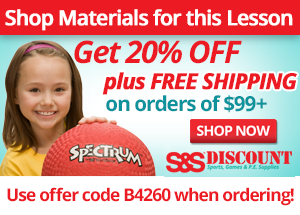 Description of Idea
Tell students that they will be going for a buggy ride. Each of them will have a chance to be a rider and a horse. They will need to tell their "horse" when to begin pulling by saying "giddy-up."
One child sits on their bottom in the basket while the other child pulls. Another child can help push if the rider is too heavy for the horse. Emphasize that the horse must wait for the rider to say "giddy-up" and follow a designated path on the floor at a slow speed. After completing the designated course, the students change roles.
For safety, the teacher must monitor the children as they get in and out of the baskets to make sure the horse does not start before the rider is safely seated.
Variations:


Add other 'polite' words and phrases such as Please and Thank You.

Children with motor impairments can spend more time riding in the buggy.

This activity has worked well for autistic children, who benefit from activities that involve gross motor skills such as pushing and pulling.

This activity has been observed to calm some very active children with Downs syndrome as they are pulled in the baskets.

Assessment Ideas:


Students should work together safely and politely.

Riders should acknowledge their horse by communicating with them, i.e., "giddy-up."

The horse should acknowledge the rider by waiting until the rider is ready.

Submitted by Teri Charpenel who teaches at Fulton Elementary School in Tinley Park , IL . Thanks for contributing to PE Central! Posted on PEC: 11/2/2000. Viewed 182150 times since 8/24/2001.
Buggy Rides

---
Previous Comments:
| | |
| --- | --- |
| Leigh Ann | I teach at a homeschool co-op and our church gym has a carpeted floor - I'm planning to do this tomorrow with sleds! |
| Stephanie | This is a fun idea. Our school doesn't have a lot of storage space for extra props such as laundry baskets but we do have tumbling mats. We used this activity using the mats. One child held a jump rope and the other pulled the child on the smooth gym floor. This way both children are using large muscles. The child on the mat "buggy" uses upper body strength while the "horse" uses his/her legs and core muscles. :) |
---
---