Name of Activity:
Pin Soccer
Purpose of Activity:
To practice soccer skills and game strategies in an active game setting.
Prerequisites:
Knowledge of soccer rules and guidelines. Kicking, passing, and goalkeeping skills should have been practiced.
Suggested Grade Level:
6-8
Materials Needed:
12 cones, 4 different colored pennies or jerseys, 2-4 soccer balls (can be high density foam balls if you wish for safety purposes), 12 pins or something else that can be used to keep score.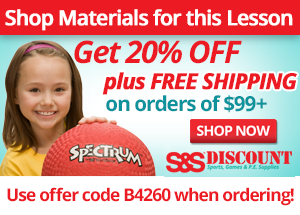 Description of Idea
This activity is a variation of the activity called 4 goal soccer. It should only be played after you have taught and had the kids practice soccer skills.
For this activity you will need a fairly large playing field in the shape of a square. Place four different goals at the four different sides of the square. Class is divided into 4 different teams with each team trying to defend their own goal. You can have more teams if you wish by making two fields. It is up to you. You can play this with one ball or you can add another ball if you wish depending on your classes skill level.
It is played like regular soccer however there are 4 goals. Each team begins the game with 3 pins behind their goal. If team 1 scores a goal on team 2 then team 1 takes a pin and places behind their goal. If a team runs out of pins than their goal is closed. That team can bring their goalie out and try to score a goal and get a pin back.
Feel free to switch teams and start again when you see fit. Go over strategies for moving the ball to open spaces and reminding students to move to open spaces.
Submitted by Chip Wooden who teaches at Eastland Middle School in Shannon, IL. Thanks for contributing to PE Central! Posted on PEC: 9/11/2002. Viewed 200897 times since 9/3/2002.
Pin Soccer

---
Previous Comments:
nathaniel fortier

had to come up with a game for pe class absolutely great idea i changed it a bit by putting the pins in the front to add more targets and i limited the zones for each team but overall amazing

Nicole Johs

This activity was great. My students don't deal well with competition, so the bowling pin scoring system worked great. Even if all their pins were gone they still had a chance to get back in the game and that made them happy. I made a goalie box that only the goalie could go in, and made a rule that nobody could use hands. In addition I added a rule that every time a goalie got scored on they had to switch out.

Buhari Masanawa

This is a great game. My lil sister always talk about it because she really enjoy it.

Jody McClain

I only tried this game with my sophomores because of the positive posting of comments on how much your kids liked it. Well, it worked, they loved it, were running, laughing and having a great time! Thanks!

Tom Voshell

I have been teaching this activity for 8 years because the students love it! I modified it and used four cones. When the ball goes out it belongs to that team no matter who knocked it out. We call it four goal soccer.

Christin

This game is a lot of fun. My fifth graders loved it! Everyone was moving the entire time and really had to think about the creation of space lesson we did first.
I didn't have four differant colored pennies and it still worked out.

Sarah Camden

I played this with my 9th graders with 3 balls. My group of 9th graders are VERY unmotivated and they loved this game!

Phena Cloyd

I am such a novice when it comes to P.E. activities. This game was so much fun for my sixth graders. I did a quick explanation on the board of how the game was played and they pretty much ran the show! Thanks for your great idea

Jeanelle

My middle school students loved this game and nearly all students were actively participating regardless of their skill level.

ronald

Great game, you are the man. You must ne the best PE teacher eva!!!
---
---