Name of Activity:
Survivors
Purpose of Activity:
To encourage teams to work together and answer questions correctly. Review locomotor patterns.
Prerequisites:
Students must be taught the material that is going to be used before this activity. However, this game may be integrated to any subject area. Check with the classroom teacher as to what they are studying at the time (e.g., math, spelling, and social studies). I have used questions on bones, muscles, and fitness.
Suggested Grade Level:
3-5
Materials Needed:
20 cones, ten different colored markers, laminated questions with locomotor movements and paper for the answers.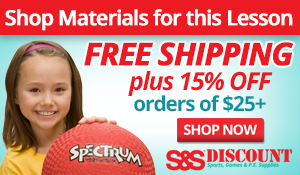 Description of Idea
Twenty cones are set up some distance around the activity area with some having questions under and some may not. These questions are color-coded on the laminated sheets under some of the cones. Each sheet includes a locomotor movement for the students to use while traveling. The class is divided into five teams of four. The team must move together using the indicated locomotor movement and answer each of their questions. They write the answer down with the marker provided under the cone so as not to be running with a sharp object. They may not proceed to their next choice of cone until the team puts the question and marker back under the cone. At some times there will be more than one team at the cone but that does not matter since their questions are different. Here is an example of some of the questions.
BLUE: WHAT IS THE LONGEST BONE IN THE BODY?
ORANGE: HOW CAN ONE IMPROVE CARDIOVASCULAR HEALTH?
RED: WHAT ARE THE METATARSALS?
There will be a total of 10 questions. When all teams are finished and back at the base camp the questions are then answered as a class.
Variations:
Have some of the cones contain a card that has a physical activity on them that the students must do instead of answering a question. Simplified questions can be used for grades 1-2.
Assessment Ideas:
Observe students performing locomotor patterns.
---
Submitted by Melissa Wolfbrandt who teaches at The Meadows School in Las Vegas, NV. Thanks for contributing to PE Central! Posted on PEC: 8/30/2002.

Viewed 189342 times since 8/19/2002.
---
---
Previous Comments:
| | |
| --- | --- |
| Patti | What are they writing the answer on? This game is not well explained. |
| Tanner Richardson | i used this site i loved it i will use it again thanks a lot. |