Name of Activity:
Oscar's Garbage Can
Purpose of Activity:
To motivate students to throw and catch various objects. This is best used as an introductory activity.
Suggested Grade Level:
1-2
Materials Needed:
Several mats (you will be standing them on their sides), various balls such as soft foam balls or yarn balls, best NOT to use beanbags for safety reasons).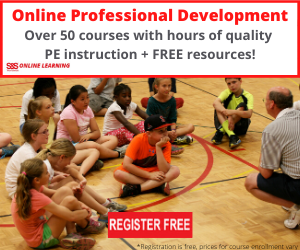 Description of Idea
Set the mats on end so they are standing in a circle formation. This is Oscar's Garbage Can! You can make it as big or small as you want or need but it may be a good idea (if you have enough mats, that is) to have several set up so you have maximum participation.
Identify two students to go inside of "the can". Their job is to clean the garage out as best they can during the duration of the game. Spread the rest of the class out so they are surrounding the outside of the garbage can. Scatter the balls all over the outside of the can or give each student on the outside 2-3 balls to start. The students inside "Oscars Can" continuously throw the "garbage" outside the can in any direction they want, while the students on the outside try to catch the garbage and throw it back in. Rotate the students in and out of the can every few minutes.
Stress to all of the kids that the game will be stopped if you see them fighting over balls to pick up.
Safety Tips:
It is important for teachers to caution students that they are to be careful when going to pick up a ball as heads may collide if they aren't watching. Please demonstrate this for th so you have no head on collisions.
Variations:
Position the kids on the outside on poly spots so they are limited in how far they can move. In other words, a body part must stay on the spot for them to pick a ball up.

Have them only use primarily underhand throwing skills. If you want to have the students on the outside use overhand make sure they are far away.
Have students in the crab walk or bear walk position. This will make the activity more fitness related.
Adaptations for Students with Disabilities

For students in wheelchairs they can sit on the floor inside or outside of Oscar's garbage can. They can also be on the outside of the "can". You will need to make Oscar's Can fairly large if they are going to be inside the can.
Submitted by Hiemenze Julie who teaches at Clearview Elementary School in Clear Lake, MN. Thanks for contributing to PE Central! Posted on PEC: 6/10/2001. Viewed 159299 times since 8/24/2001.
Oscar's Garbage Can

---
Previous Comments:
adina mcpherson

This is a great activity that gets all students involved. My p-2 classes loved it.

PEintern

This game is so much fun for both the students AND the coaches.. The kids made it look so fun that us coaches HAD to join in :) Great activity to use when teaching throwing and catching

K.T. Stone

I did this activity for the first week of school, grades K-2. It was a BIG HIT..and students want to keep playing it. It was a good pre-assessment for myself....besides an ice breaker getting to play and cooperate. Thank you....

Dan

Great game! My K-1 students love it! I put three students in the garbage can and they practice throwing overhand while the students outside the garbage can practice throwing underhand. They are excited to be Oscar! Really helps with making sure students step with the opposite foot.

Caroline

Fab idea, my y1 children will love this game tomorrow and is really going to help me with my creativity and inspection
Thanks!

Kayla Clark

Thanks for this ideas, julie. It has become an annual favorite for my K-2s when we are working on throwing and catching!
---
---