Name of Activity:
Magician Tag
Purpose of Activity:
To have students practice various locomotor skills during a chasing, fleeing, and dodging activity. To assess student performance of the different locomotor skills (hopping, sliding, galloping, skipping, etc.).
Prerequisites:
The students should know at least 4 locomotor skills and have practiced personal space activities. They should already be able to move successfully without bumping into each other.
Suggested Grade Level:
K-2
Materials Needed:
1 Small foam noodle ("wand") for each tagger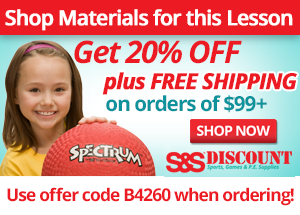 Description of Idea
Choose one tagger for each locomotor skill, limiting the number to about 3-4 taggers per class of 20. These taggers, who are each assigned a particular locomotor skill (e. g., hopping, sliding, galloping, skipping, etc.), are called "Magicians" and will be given a "wand" (foam noodle) for tagging purposes. They must move using only their assigned skill.
The rest of the students start in personal space and on the teacher's signal begin to walk around in general space. If a student is tagged by a magician, they must assume the locomotor skill of the magician that tagged them. Continue activity for 3-5 minutes and then switch magicians.
Note: During the activity, children will be continually changing their locomotor patterns and may be performing 3-4 different locomotor skills, which will depend on the number of taggers.
Assessment Ideas:
This is a great assessment tool because you can observe each child perform all locomotor skills in a matter of a few games. If you want to watch a student perform a particular locomotor skill, assign that student the role of the magician performing that skill.
Adaptations for Students with Disabilities

The student with a disability can be the magician performing the "walking" locomotor pattern, be partnered with someone else and follow them, or be pushed by a partner.
Submitted by Kare Waddinton who teaches at Deep Run ES in Elkridge, MD. Additional authors for this idea were Peter Roeser. Thanks for contributing to PE Central! Posted on PEC: 6/1/2002. Viewed 143825 times since 5/19/2002.
Magician Tag

---
Previous Comments:
There are currently no comments to display. Be the first to add a comment!
---
---