Name of Activity:
Through the Quicksand
Purpose of Activity:
To promote teamwork and cooperation. In addition, throwing and catching skills will be practiced.
Activity cues:
Underhand throwing cues
,
Catching cues
Suggested Grade Level:
3-5
Materials Needed:
Cones to mark off playing area, many hula-hoops, many bean bags, jump ropes.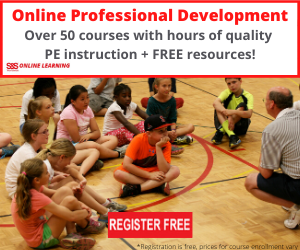 Description of Idea
Set up the playing area by forming a rectangular space with the cones (approximately 30 feet X 20 feet depending on equipment availability). Fill in your rectangle with hula hoops. Leave some space between the hoops. We call this area "quicksand alley". The hoops represent areas of quicksand.
Ask students to select a partner. One partner will be the travelling expert, and the other group will be the rescue expert. The travel expert will start at one end of the rectangular area and the rescue expert will stand around the sides of your rectangular area with a good supply of beanbags available.
On signal, the travel experts will attempt to leap across quicksand alley (to the other end) attempting to leap over the hoops. If they land in or on any of the hoops they are stuck in the quicksand. The only way they can continue their journey is to successfully catch a beanbag, which is to be underhand tossed to them by their partner, the rescue expert.
The objective of the activity is to help your partner get through "quicksand alley", and to the other side of the rectangle. If a travel expert fails to catch a beanbag after they have been trapped in the quicksand, they may toss it back to a rescue expert and attempt again.
Once the traveler has proceeded through "quicksand alley" they switch places with their partner.
Variations:
Allow throwers to move around the "quicksand alley" to get closer to their traveler.
Vary the size of the hoops. If floor is slippery, use jump ropes in place of the hoops.
Teaching Suggestions:
Be cautious using hoops on a slippery floor as they could slide if a student lands on them.
Adaptations for Students with Disabilities

Students may be assigned to have "buddy travelers", in which they may travel together and help each other.
Submitted by Chris Wolff who teaches at Parkside Elementary in Powell, WY. Additional authors for this idea were 3rd Grade Students in Mrs. Sheet's Class. Thanks for contributing to PE Central! Posted on PEC: 4/6/2002. Viewed 215240 times since 3/21/2002.
Through the Quicksand

---
Previous Comments:
There are currently no comments to display. Be the first to add a comment!
---
---