Name of Activity:
Sailors and Sharks
Purpose of Activity:
To use skills of fleeing and dodging in order to avoid being tagged.
Prerequisites:
Ability to tag safely; ability to move safely through general space (avaoid others); introduction to and practice in skills involved in chasing, fleeing, and dodging.
Suggested Grade Level:
2-3
Materials Needed:
4-5 (or more) floor mats scattered around the playing area; a number of pinnies.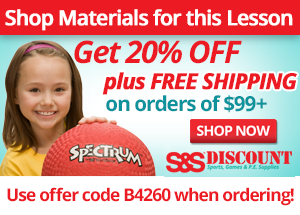 Description of Idea
Students begin standing on the ships (mats). One student, the shark, wears a pinney. At the signal from the teacher of "sailors swim", the sailors (students) scatter (have them do locomotor movements other than running) to a new ship (i.e. mat). If tagged by a shark, the sailor must put a pinney on and become a shark in order to help capture the remaining sailors. Begin a new game periodically, when there are a few students left.
This students really enjoyed this activity and like making our gym floor an ocean. Sailors could also turn into other sea life besides just sharks.
Teaching Suggestions:
Depending upon the skill of your students, you can use a lesser or greater number of boats, and/or put them closer together.
Submitted by Karmen Johnson who teaches at Martin Grade School in Martin, SD. Thanks for contributing to PE Central! Posted on PEC: 5/12/2016. Viewed 363087 times since 8/24/2001.
Sailors and Sharks

---
Previous Comments:
| | |
| --- | --- |
| ANGELA | HAVE THE KIDS USE ONE OF THEIR SOCKS TO PUT ON THEIR HAND TO BE A SHARK. NO ONE WILL WANT TO BE TAGGED WITH A STINKY SOCK! ALSO NO SHOES AND SAILORS MUST HAVE THEIR HANDS AND FEET TOUCHING THE GROUND AT ALL TIMES. SHARKS HAVE TO BE ON THEIR KNEES TO TAG SAILORS. |
| Chris | If you have problems with students wanting to get tagged. All you need to do is say that the last sailor standing gets to be the shark on the next round. now the students don't want to get tagged any more. |
| B | Along with the "giving students numbers" idea, you could also have the students wear different colored pennies. "Green Sailors" "Red Sailors". And you could have a signal every once in a while where you yell "SHIPWRECK!" and all students go at once, no matter what penny they are wearing. |
| K | Perhaps giving all the students numbers (have them count off 1,2,3,4,1,2,3,4....) Call the number and they are the ones who run. This might make it a little safer as you don't have the whole class running at the same time. Sorry to hear about Chaz. |
| Mr. B | Try using yarn balls or bean bags, something of that sort to signify the sharks. Kids can the tag with those items. Much easier than putting on pinneys. |
| Mr. K | This game is horrible, I had several children fall and get hurt. One of my students chaz broke his arm. |
| Mrs. W. | I just tried this game with K-3. I too had some kids trying to get tagged on purpose. But the kids loved it! Even the K-1 students understood how to play and they could run all day. |
| HH | I even did a version of this game for 9th graders. They absolutely loved it and a lot of the upperclassman jumped in the game as well. Great cardio workout, kids were running and didn't even realize it. |
| Barbara Kreiss | This was a good game except I had students who were trying on purpose to get tagged. I used carpet squares or hula hoops for the ships. I changed the rules so that a tagged sailor had to come to the "captain" (teacher) and get an assigned exercise. Then they were back in the game. I have classes of 40 so I had 4 sharks using noodles for tagging. I rotated the sharks several times. Kids loved it. |
---
---