Name of Activity:
Life in a Blood Vessel
Purpose of Activity:
To help students understand the various activities that are constantly going on in a blood cell.
Suggested Grade Level:
6-8
Materials Needed:
Paperclips, paper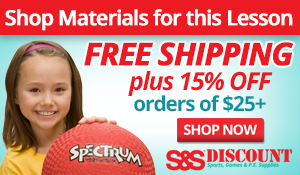 Description of Idea
Begin by assigning each student in the class with one of the following roles: red blood cell, white blood cell, antibody, pathogen, and platelets.
Introduce one rule for the activity: NO TALKING!
Give each student a blank sheet of paper and have them draw their particular role and label it at the top (textbooks usually have pictures of these for them to copy).
With most of the students being assigned as red blood cells, have them form a line, continually picking up a paperclip (or other object) from a certain area (which you will label as the lungs) and drop them off at different desks, evenly distributing the paperclips (which symbolize oxygen), and then returning to the paperclip source for another one. This process goes on continually while the rest of the action takes place.
White blood cells will be patrolling the area, as well as the antibodies, doing nothing until a pathogen appears. The pathogens are stored in a corner until the instructor calls out "pathogen release." It helps to describe a certain external influence that may introduce these pathogens (classmate sneezes, student touches contaminated surface then eats without washing). When the pathogens are on the loose, the white blood cells and antibodies immediately WALK towards the intruders, and escorts them back to their corner where they are out of commission. The pathogens must comply with the white blood cells and antibodies when they are tapped.
Finally, the platelets are simply roaming around until the teacher opens the door (symbolizing a cut). When the teacher opens the door the students all try to walk out, until the platelet gets to the door and closes it (The teacher may wait a second, and then let the escaped students back in).
Teachers may be as creative as they want with this. When a student focuses just on their role, it isn't as complicated as it seems, and they can see how there are so many things going on in a blood vessel at one time.
Assessment Ideas:
Have the students list the different roles of the items in a blood vessel on a sheet of paper or worksheet.
---
Submitted by Ryan Battles in Chagrin Falls, OH. Thanks for contributing to PE Central! Posted on PEC: 3/24/2002.

Viewed 32803 times since 1/13/2002.
---
---
Previous Comments:
There are currently no comments to display. Be the first to add a comment!