Name of Activity:
Mystery Puzzle Race
Purpose of Activity:
To encourage students to work together and work on fitness.
Prerequisites:
Some knowledge of sport specific vocabulary for at least 6 different sports.
Suggested Grade Level:
6-8
Materials Needed:
36 dome cones (6 each of 6 different colors), 36 index cards, 6 jump ropes (optional), tally sheets, 6 small clip boards and pencils, 6 hula hoop (same color as cones), 6 regular cones.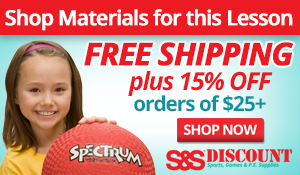 Description of Idea
Scatter dome cones around general space. Place an index card (or 2) with a specific task on one side and a sport specific vocabulary card on the other side under each dome cone so that the six domes of one color each have an index card with a different task and vocabulary word on it.
Separate the class into 6 teams. Each team has their own base area marked by a hula hoop or a regular cone of a certain color. When the activity starts, teams head to their color of dome cone. The team must walk together from the base to the cone by having each member of the team hold on to a jump rope (which all need to be the same size). When the team reaches their first dome cone of choice (red team will go to red dome cones, etc.), they will read the task on the card (example - 25 jumping jacks), perform that task, write down the task on the tally sheet and take the card back to their base. Once back to their base, they continue to the next dome. After the teams have collected all their task cards, they figure out what sport is represented by the vocabulary words on the other side of the task card (example bump, spike, dig, etc. for volleyball), and record their answers on the tally sheet. If a task is missing, the team must figure out which one is missing, find the dome they missed, and perform the task as a group before they can record it.
Variations:
Move cones during the activity to make it more difficult for groups to find cones they have not been to yet.
End class with students writing directions for a task and having a partner complete the task.
Assessment Ideas:
Collect student designed task cards.
Identify whether students were able to complete a peer designed task card.
Identify any groups or individuals who are unable to follow directions, then determine whether the task card needs refinement or if the students need assistance.
Teaching Suggestions:
This is a good lead up to lessons using stations, reciprocal, inclusion, or other teaching styles that may use task sheets.
Instead of using sports vocabulary, use body parts, bones, muscles, or other classroom subject material.
Adaptations for Students with Disabilities:
Include pictures of sports equipment and the tasks for students with difficulties reading.

---
Submitted by Lexa Jones who teaches at Berendo Middle School in Los Angeles, CA. Thanks for contributing to PE Central! Posted on PEC: 3/24/2002.

Viewed 162623 times since 12/3/2001.
---
---
Previous Comments:
| | |
| --- | --- |
| Beth | This is the second year I have done this team building activity. I do it with 4th and 5th grade as well. The students love this. Their is a little bit for everyone. It is competetive, stresses strong teamwork in a group, fitness element, and cognitive reasoning. Their are many directions to give. With the older kids I write down all of the rules. I tell them what the final objective is. They have to read the rules. If they do it wrong I implement a holding penalty of 1 minute and make them do it again. They can ask me any question they want, but I do not freely give out the information. |