Name of Activity:
Columbus Tag
Suggested Grade Level:
3-5
Materials Needed:
3 boat posters, 3 chore lists, 2-3 pinnes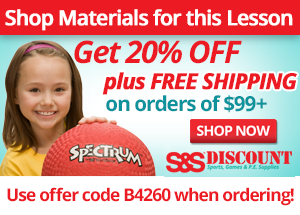 Description of Idea
Begin the lesson by talking about Columbus or reading a short story about his role in history. Choose 2-3 students to be the taggers(Christopher Columbuses). The rest of the students are assigned to one of his boats, the Nina, the Pinta, or the Santa Maria. Have posters that depict each of the boats taped somewhere in the activity area on the wall. Next to each boat is taped a chore list which has 10-15 different exercises or activities on them. If a student is tagged, s/he must go to his/her assigned boat and choose a chore to do. Each chore can be done for a count of 10 or for whatever count or time period the teacher decides. If tagged again, the student goes back to his/her boat and has to do a different chore. Once a player has completed all the chores, they may start over on the chore list. Play for a few minutes and then switch taggers. It is best to have the students start out using walking as the locomotor movements and then add different movements (e.g., skipping, galloping, etc.) as the students get used to the activity.
Some suggested chores to go on the list:



Jump a rope 20 times

10 jumping jacks

10 wall or regular push ups

10 sit ups

20 jump over and backs of a line

10 self catches with a yarn or regular soft nerf ball

10 strikes of a ball using a paddle

Submitted by Tracy Bruinsma who teaches at Wesmere Elementary in Plainfield, IL. Thanks for contributing to PE Central! Posted on PEC: 1/24/2002. Viewed 33670 times since 11/7/2001.
Columbus Tag

---
Previous Comments:
There are currently no comments to display. Be the first to add a comment!
---
---