Name of Activity:
Haunted House
Purpose of Activity:
To have children partake in a fun and active halloween activity.
Suggested Grade Level:
3-5
Materials Needed:
Strobe light, ghosts (tennis balls covered with white material, bowling pins, hockey pucks, 2 long tables, parachute, jump ropes, vball stands, large white sheet, 2 scooters, halloween music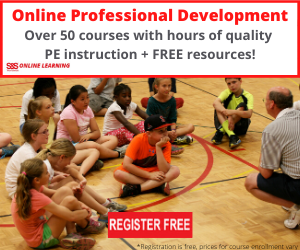 Description of Idea
Before beginning this make sure you go over the stations and safety with the children before starting.
Place a strobe light in the center of the gym on a desk or small table. Set up the 4 stations in the gym so students can rotate easily from station to station.
Station 1: Graveyard Bowling--Set up 5-6 bowling pins (depending on # of students)on a sideline. Place 5-6 poly spots 6 feet away with a hockey puck on top. Students must lay on their stomachs and slide the puck attempting to knock over the pin. If you wish students can keep track of their pin knock downs and ghost tosses.

Station 2: Bat Aerobics--Hang a white bed sheet between the 2 stands. Place a lamp to give the sheet a nice glow for seeing shadows. Students have a sequenced routine (written with white chalk on black paper) using jumping jacks, skiers, bat squats (with arms flying), grapevines and any other steps you choose. Have students take turns leading the bat aerobics.
Station 3: Haunted Cave--place 2 parachutes over some kind of safe and sturdy stands leaving openings at the beginning and end. Students scooter on their stomachs through the cave. I hang plastic spiders in cob webs on the sides of the parachute for effect. I also have glow in the dark gloves that sometimes appear from under the parachute keeping the students alert. Students walk the scooter back to the entrance for the next student in line.
Station 4: Mummy Jumping--Students make believe they are mummies and use their imagination to jump, with a partner, like a mummy.
Submitted by Colleen Holtz who teaches at Valley View Elementary in Boise, ID. Thanks for contributing to PE Central! Posted on PEC: 10/18/2001. Viewed 59799 times since 10/17/2001.
Haunted House

---
Previous Comments:
There are currently no comments to display. Be the first to add a comment!
---
---