Name of Activity:
Wally badminton
Purpose of Activity:
Improve accuracy of the badminton overhead and/or underhand clear. Use this activity if the basketball nets overhang onto the court in your gym. The object is to aim your bird at the backboard for a bank shot.
Prerequisites:
The badminton overhand and/or underhand clear.
Suggested Grade Level:
9-12
Materials Needed:
Badminton racquets, shuttle cocks, and badminton nets with basketball hoops hanging over part of the court.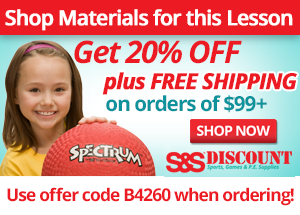 Description of Idea
This could be used as a practice activity for accuracy, or included in a game. There are a couple variations depending on the location of the basketball hoop.
1. When the basketball hoop is at the back of the court:
While playing a 1 vs. 1 or 2 vs. 2 game, or practicing the overhead or underhand clear, have students try to hit the backboard. If used during game play, students get an extra two points if they sink a basket.
2. When the net is at the side of the court:
Include the backboard as part of the game. At any time during the game, students can bank their shot off the backboard. It is similar to the concept of wallyball in volleyball.
Variations:
Use the box on the backboard as a smaller target for students to hit.
Raise or lower the net.

Assessment Ideas:
Use the cues for the clear to conduct a skills check.
Have students keep track of the number of times out of 10 they can hit the backboard.
Teaching Suggestions:
Rotate students from court to court so they all have a chance to play with and without a basketball hoop over their court.
If the shuttlecock getting stuck on the hoop becomes a regular occurrence, modify so that they only earn points if the birdie does not get stuck.
Submitted by Michelle Gaus who teaches at Belle River High School in Windsor, . Thanks for contributing to PE Central! Posted on PEC: 12/29/2001. Viewed 89450 times since 8/24/2001.
Wally badminton

---
Previous Comments:
There are currently no comments to display. Be the first to add a comment!
---
---