Name of Activity:
Movie Mania
Purpose of Activity:
To have students involved in a day of fun and activity that linked back to what is taught in the physical education curriculum.
Suggested Grade Level:
3-5
Materials Needed:
The materials/equipment is dependent on the station ideas you decide on and the number of students that participate.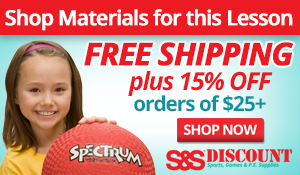 Description of Idea
This was our culminating activity for the year and was designed to be linked to the curriculum and the skills which were taught during the year. All of the events were themed around children's movies.
The students were given 90 minutes to get to 8 stations twice. So they needed to make 16 stops. Upon completion of the station the classroom teacher at the station would punch their movie ticket. 16 punches admitted them to the showing of a movie after the event. The students were free to use the time as they saw fit. If they wanted to climb on the playground equipment that was their choice. However, if they did not get 16 punches on their ticket in 90 minutes, they were not admitted to the movie. If students were not acting responsibly, a teacher could refuse to punch their ticket and the student would have to repeat the activity to get a punch. All the teachers were dressed in team uniforms related to the skill or sport at each station. These were donated by a local sporting goods store.
The movies that were featured at each station and the corresponding skills are:
1. Movie/Skill: ANGELS IN THE OUTFIELD/CATCHING
Skill: CATCHING
Cues: Ball above waist-fingers up while catching. Ball below the waist-fingers down when catching.
Select a partner. Get the ball of your choice Stand Toe to Toe. Take a giant step back. Toss underhand or overhand. When a partner catches, tosser steps back, one giant step. If a partner misses, tosser steps forward one giant step. Continue until each partner has had 5 tosses. When done put your ball away and get your ticket punched.
2. Movie/Skill: SPACE JAM/HAND DRIBBLING
Skill: HAND DRIBBLING
Cues: Dribble waist high. Dribble with your fingerpads.
Select a ball. Dribble the ball with your hands around the obstacle course. At the basket you may take two shots. Complete the course put your ball away. Get your ticket punched.
Extra Challenges:
Can you dribble with both hands?

Can you dribble without looking at the ball?
3. Movie/Skill: THE BIG GREEN/FOOT DRIBBLING
Skill: FOOT DRIBBLING
Cues: Use gentle taps with both feet so ball stays close to you.
Select a ball. Dribble with your feet around the obstacle course. Return your ball and get your ticket punched.
4. Movie/Skill: RUDY/OVERHAND THROWING
Skill: OVERHAND THROWING
Cues: Step with the opposite foot as the hand you throw with. Place opposite shoulder toward the target.
Stand at the bucket. Pick out a wet foam ball. Overhand throw at the barrel. Continue until you have completed all 6 throws. Once completed, collect and return all 6 balls. Get ticket punched.
5. Movie/Skill: THE POWER RANGERS/WEIGHT TRANSFER
Skill: WEIGHT TRANSFER
Cues: Place hands shoulder width apart. How straight can you keep your arms and legs?
Transfer weight from feet to hands. Travel around the obstacle course. At each obstacle, transfer weight from feet to hands and land on your feet. When finished get your ticket punched.
6. Movie/Skill: FREE WILLY/JUMPING AND LANDING
Skill: JUMPING AND LANDING
Cues: Swing and spring. Land softly by bending your knees.
Start at the beginning of the obstacle course. Read sign at each obstacle. Complete the obstacle using the correct pattern. Use arms and legs to help jump. When finished, get your ticket punched.
Signs for Obstacles:
Hop around hoops (One foot take off same foot landing)


Jump for Distance (two foot take off-two foot landing)

Jump For Height (Two foot takeoff-two foot landing)
7. Movie/Skill: THE MIGHTY DUCKS/STRIKING WITH LONG HANDLES
Skill: STRIKING WITH LONG HANDLES
Cues: Gently tap the ball with both sides of the stick.
Select a hockey stick and tennis ball. Dribble the ball through the obstacle course. You have completed the course when your ball goes into the golf hole. Put your stick and ball away. Get your ticket punched.
8. Movie/Skill: THE FIELD OF DREAMS/STRIKING WITH SHORT HANDLES
Skill: STRIKING WITH SHORT HANDLES
Cues: Look at the ball while striking. Strike with a straight arm.
Select a group of 3 people (1 hitter and 2 fielders). Batter hits ball off the tee in any direction. Batter runs between the two bases. One run for each base touched. Once the fielders get the ball back on the tee, the runner stops. The batter switches roles with a fielder. Switch until everyone gets 2 chances to bat. Keep score if you wish. Put equipment away and get ticket punched.
The activities and cues we focused on varied by grade level, but all fit with the our physical education objectives. If readers would like more information on our specific activities e-mail me at swdeltoy@cybermesa.com.
---
Submitted by Dave Hinman who teaches at Katherine Gallegos Elementary in Albuquerque, , NM . Thanks for contributing to PE Central! Posted on PEC: 2/23/2001.

Viewed 59836 times since 8/24/2001.
---
---
Previous Comments:
There are currently no comments to display. Be the first to add a comment!