Name of Activity:
Who's It?
Purpose of Activity:
To determine "Who's It" for activities (usually tag activities) without disagreements between students.
Suggested Grade Level:
3-5
Materials Needed:
Class lists and a pencil.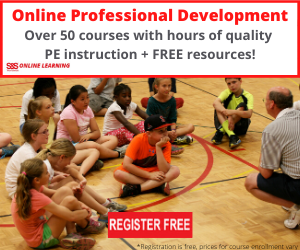 Description of Idea
I have mounted class lists according to grade levels on construction paper. These posters hang on my door. Whenever I need a student to be "it" (the tagger in tag-type activities) I look at their class list. When I call their name I place a check next to their name. This records who has and hasn't been "it". This saves time and prevents all disagreements.
Every student has the opportunity to be "it" once, if not twice during the year. I usually have the "it" choose a boy and a girl to help (no check recorded). Everyone must receive a check before someone receives their second check/chance to be "it".
I have used these "Who's It Board" idea for the last four years and what a differences it makes! I have a poster above the checklist entitled "Who's It". It has a graphic from a child running from a tagger. Many parents at open house comment what a nice way to keep track of the students having a turn. The list also serves has a way to learn names. Both student teachers and substitute techers appreciate seeing the names listed in a handy spot.
Adaptations for Students with Disabilities

In classes where there are students who are mainstreamed, I encourage "it" to choose a student who has special needs to help him/her.
Submitted by Charlene Schneckenberger who teaches at W.T. Hoag Elementary School in Angola , NY . Thanks for contributing to PE Central! Posted on PEC: 3/14/2001. Viewed 22157 times since 8/24/2001.
Who's It?

---
Previous Comments:
There are currently no comments to display. Be the first to add a comment!
---
---