Name of Activity:
Big Buddies
Purpose of Activity:
The purpose of this activity is to help our PreK students gain confidence in learning new skills. In addition, they begin to learn how to cooperate with others and they also have opportunities to talk, laugh and play with their big buddy.
Prerequisites:
Big buddies (older students in grades 2, 3, 4, or 5) should have lessons on how to help their PreK, "little buddy." This includes what to do if your little buddy is hesitant, what to do if your little buddy is not following the activity, etc. It is suggested that you "role-play" these with the big buddies before they begin.
Suggested Grade Level:
PreK
Materials Needed:
Regular P.E. equipment needed for whatever you are teaching on that particular day. You will also need one "big buddy" student for each "little buddy" PreK student.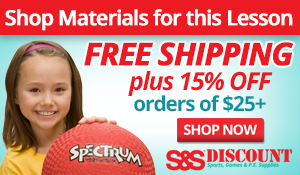 Description of Idea
Pair up a PreK student with a big buddy. Have them introduce themselves to each other. Start with a lesson which is conducive to using partners, such as bouncing a ball or rolling a ball. Have the big buddy help their little buddy as needed. The little buddy rolls, or bounces the ball to the big buddy while the big buddy gives praise, or assistance.
Assessment Ideas:
Have the big buddies keep a reflective journal.

Have the little buddies briefly tell you what they did with their buddy.
Adaptations for Students with Disabilities:
If needed, an adult aide will stay with a big buddy/disabled little buddy, but a disabled child SHOULD also have a student big buddy (in addition to the adult aide).
---
Submitted by Teri Charpenel who teaches at Fulton Elementary School in Tinley Park , IL . Thanks for contributing to PE Central! Posted on PEC: 4/17/2001.

Viewed 137070 times since 8/24/2001.
---
---
Previous Comments:
There are currently no comments to display. Be the first to add a comment!