Name of Activity:
Getting Started with Traveling
Purpose of Activity:
The purpose of this activity is to introduce the basic traveling skills of walking, marching, galloping, and skipping to preschool children while helping them to understand the concept of general space.
Activity cues:
Swing arms for walking, lift knees high for marching, one foot leads and the other follows for galloping, and hop on one foot the hop on the other for skipping.
Suggested Grade Level:
Preschool
Materials Needed:
This activity requires a large open space, free of any obstacles.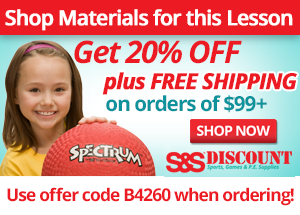 Description of Idea
The idea behind this activity is to help children feel comfortable as they move in a large space with other children and to introduce basic traveling skills. Start by asking children to begin walking throughout the space. As they walk ask that they stay far away from their friends and swing their arms. Continue with other traveling skills asking children to march by raising their knees as high as they can, to gallop by moving forward stepping on the front foot and bringing the rear foot forward, and skipping by alternating hopping one time on one foot and then on the other. Allow 45 to 60 seconds for children to practice each skill before moving to the next and then repeat each skill several times during the activity. Add other skills such as crawling, hopping, sliding as children are ready.
Variations:
As children begin to be able to travel in general space using a variety of locomotor skills without bumping into classmates, they are ready for a more difficult challenge of moving around obstacles. scatter hoops, cones, or two-liter soda bottles throughout the space and repeat the locomotor skills asking children to move throughout the space without bumping into classmates or touching the obstacles.
Assessment Ideas:
Observe and record children's skill level as they move throughout the large space. Remind children who have difficulty moving without bumping into friends that to move safetly they must watch where they are going and not get too close to anyone as they move.
Teaching Suggestions:
In the beginning there will be bumping as children will be more excited about practicing the traveling skills then watching where they are going. Teachers may want to initially ask that children walk with their arm straight out to the side asking that they not get any closer than arms length to their classmates.
Submitted by the PE Central Staff. Thanks for contributing to PE Central! Posted on PEC: 1/18/2001. Viewed 99825 times since 8/24/2001.
Getting Started with Traveling

---
Previous Comments:
| | |
| --- | --- |
| Paula Howard | I am trying to find a picture of a child galloping to use with my students who need visual cues. Does any one have one they could email to me? email: howardp@lincolnps.org |
---
---