Name of Activity:
Improvisation
Purpose of Activity:
Explore different techniques of communicating emotion, interpreting personal and group dance space, integrating personal style into expanded group expression, and peripheral understanding of rhythm and timing to synchronize movement.
Prerequisites:
None. This is particularly good to orient children and adults of all ages with disabilities to a creative environment where everyone's individuality is an acceptable form of expression and can easily be adopted by other participants. A collective language is the ultimate outcome of this class.
Suggested Grade Level:
3-5
Materials Needed:
Comfortable loose clothing; bare feet or socks; a metronome, tamborine, or drum; a timer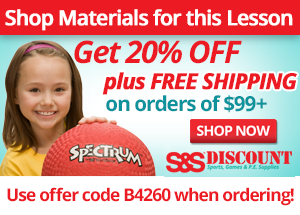 Recommended music:
Not needed. Students are listening to each others footsteps to determine synchronisity of motion with each other. This is where a metronome, drum, or tamborine could be used.
Beginning dance formation:
Relaxation exercises (e.g. yoga breathing and light stretching). Begin seated and then stand and stretch as a group.
Dance source:
This lesson idea is taken in part from curriculum content of a dance course, Dance Improvisation (1992) from the State University of New York College at Purchase.
Description of Idea
Varying exercises: (each of these can be timed)
Enact a verb, ie: tremor
Enact a series of verbs. Each person can make up their own and must perform for a specific time period.
Enact a situation, ie: dressing (Several small groups can each take a different situation and one person will begin the pantomime. The others join and elaborate.)
Walk in pace across room next to someone else
Begin a rhythm using only hands and limbs as instruments and have group join in one by one for several minutes.
Collective dance formations: groups of approx. 8 people stand in a square formation each facing the same direction. A person from the front row begins a series of motions of their choice which the others follow as close as possible. That person then turns to a different direction, creating a new front line. Another person from the new front line begins and this continues.
Variations:
Additional exercises can be added from familiar acting techniques and other dance and music sources.
Assessment Ideas:
Did the participants expand their concept of dance and movement? Did they feel comfortable participating? Did this bring out creativity in each person?
Submitted by Gretchen Kraus in Danbury, CT. Thanks for contributing to PE Central! Posted on PEC: 11/29/2001. Viewed 53950 times since 8/24/2001.
Improvisation

---
Previous Comments:
| | |
| --- | --- |
| Kayden F. | Works best when there's more than one child. Kayden did this with his brother and they had fun with it. I like that this exercise incorporates English (verb), music and PE all in one. |
---
---