Name of Activity:
"It's the Great Pumpkin" Game
Purpose of Activity:
For students to demonstrate the ability to perform a variety of locomotor movements and body shapes.
Activity cues:
Are specific to each movement, e.g. "heel to toe" for galloping; "body parts far apart" for wide shape, etc.
Prerequisites:
Introduction to different body shapes (wide, curved, twisted, straight, and angular) and locomotor movements (walk, gallop, skip, etc.)
Suggested Grade Level:
K-2
Materials Needed:
The children's book "It's The Great Pumpkin, Charlie Brown" by Charles M. Schulz; two to three orange yarn balls; a towel or baby blanket (for Linus' blanket!); drum.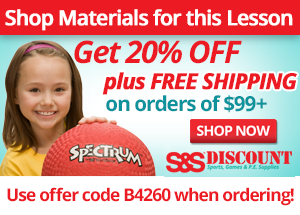 Description of Idea
Begin class with a quick instant activity. When done, have students sit in a group. Ask them what holiday is coming up (Halloween). What kinds of things do we see lots of around Halloween? (Ghosts! Costumes! Pumpkins!) Then read students selected parts of the book, "It's the Great Pumpkin, Charlie Brown". Explain that they will then need to use their pumpkin shapes in the pumpkin patch for the game they will be playing today; they'll first need to practice their pumpkin shapes.


Have each student start out in their self space; when you give a signal on the drum, they should make a different pumpkin shape and hold it. (Comment on the variety of shapes they are making in their pumpkin patch, encouraging them to grow their own pumpkin shape and make it different from others'!) When done, bring them back in to a group to explain the game as follows:


You will call out a locomotor skill in which to practice while moving around the "pumpkin patch" (use cones to designate an area for the game). You'll also choose two taggers (you can call them a character name from the book). Each tagger gets an orange yarn ball. If you are tagged by one of these taggers, you must freeze in your pumpkin shape.


You will also choose a student to be Linus. Linus carries a blanket. If Linus brushes his blanket over your pumpkin shape, you are "unfrozen" and may rejoin the game. Taggers and Linus must use the same locomotor skill that the students moving around the pumpkin patch are using.


After a set amount of minutes (one or so), change taggers and Linus by having girls pick boys and boys pick girls. Change locomotor skills for each game.
Assessment Ideas:
Observe students' abilities to perform the different locomotor movements. Have they improved on any you have already begun to track?


Observe students' abilities to make a variety of body shapes. Do they correctly make the shape you call out?
Adaptations for Students with Disabilities

Instead of a blanket, use a foam noodle for Linus. This can easily be used for a student in a wheelchair.
Submitted by Mary Kerschbaum who teaches at Colin L. Powell Elementary School in The Woodlands , TX . Thanks for contributing to PE Central! Posted on PEC: 2/2/2001. Viewed 84219 times since 8/24/2001.
"It's the Great Pumpkin" Game

---
Previous Comments:
| | |
| --- | --- |
| lisa mcqueen | What are they using for to make shapes? |
| lisa mcqueen | What are they using for to make shapes? |
| madiaon | |
---
---