Name of Activity:
Just for the fun of it!
Purpose of Activity:
To engage in non-competitive activities with students in similar grade levels.
Suggested Grade Level:
K-5
Materials Needed:
Hoses (2), Squirt bottles (15), blindfolds (3 feet strips of fabric; large tin cans (6-7) from cafeteria, small tin cans (6-7) from cafeteria, burlap sacks (25), sets of adult size clothes (6-7) Shirt, pants, hat, large tub to hold water.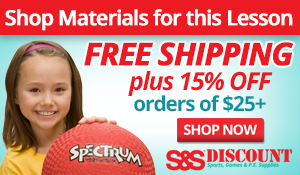 Description of Idea
Five stations are set up outside. Each station is staffed with teachers from the building (physical education 2, art 1, music 1, counselor 1). Each grade level comes out for a 50 minute session. They rotate through the stations every 10 minutes.
Station 1: Water Relay.
Group is divided into 6-7 groups and set up as relay type teams. Behind the group is a giant tub filled with water. We run a hose out to here to refill the tub as needed. Each group has a small can that they will use to carry water down to the other end of the area and attempt to fill up a larger can. The small can has holes punched in the bottom of it. On "go," the first person in line runs (or choose whatever locomotor movement you want, running can be dangerous) to fill up the small can from the giant tub. They then run to the front of their line and begin to pass the can over their head to the next person. This continues until the can gets to the back of their line. The last person then runs to the other end to dump whatever water is left in their can into the larger can. This continues for a few minutes. At the end, all of the water that was collected in the larger cans is tossed back onto the kids! No team "wins" by being done first. If one team fills their can, they just help another team fill theirs until everyone is told to stop.
Station 2: Sneaker Hunt.
Everyone takes their sneakers off and piles them up at one end of the area. On "go," everyone tries to find their sneakers and put them back on and run back to the start. The entire group is timed. Kids are encouraged to help others find their sneakers, because they, as a group are trying to beat their previous time. No one "wins" by getting their sneakers first. They just try to cooperate to continue to improve their group's time.
Station 3: Clothes Relay.
The group is divided into relay style lines. Each group has one set (pants, shirt, hat) of adult sized clothes. On "go," the first person in line puts on the oversized clothes. They then run to a cone (approx. 10 yards) and back. When they get back, they take off the clothes and the next person in line repeats the process. One team is not "done" when they all go once. The relay is done for a period of time. There is too much fun to worry about who is going faster!
Station 4: Sacks.
Each person gets in a burlap sack. They all hop around for a minute. They then get a partner and share a sack. They then move around as a 3-legged creature. They then are told to get in groups of 3 with 2 sacks. They all stand side by side and attempt to move around together. They then attempt to move as a group of 4 with 3 sacks. Groups continue to increase in size until the time is up.
Station 5: Partner Squirts.
Everyone has a partner, one blindfold and one squirt bottle (dish soap bottle, ketchup bottle...) filled with water. We run another hose to this area to refill the bottles as needed. One partner stands in front and is blindfolded. They hold the squirt bottle. The other partner stands in back of the blindfolded partner and holds on to their shoulders. On "go," the back partner directs the front partner toward other partners. When the back partner thinks that the front partner is "within range," they tell them to "squirt." The front partner then squeezes their squirt bottle. After a few minutes of fun and laughter, the partners trade places.
Stations rotate about every 10 minutes.
After each grade level is finished, the students are all given a Popsicle and "cool down" under a shady tree.
---
Submitted by Tom Winiecki who teaches at Mott Road Elementary in Fayetteville , NY . Thanks for contributing to PE Central! Posted on PEC: 10/27/2000.

Viewed 149672 times since 8/24/2001.
---
---
Previous Comments:
| | |
| --- | --- |
| Karen Davis | I have enjoyed using your ideas over the past two years. Partner Squirt is a favorite, and sneaker hunt is a great large group activity! |