Name of Activity:
Sports and Fitness Festival
Purpose of Activity:
To extend the physical education curriculum beyond what can be offered in regular PE classes and to expose students to new sports and activities which lead them to a healthy lifestyle.
Suggested Grade Level:
K-5
Materials Needed:
Sign up sheet for student activity choices, activity rosters for each classroom teacher, rosters of each activity, name tags, equipment as required for specific activities.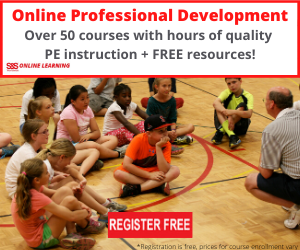 Description of Idea
At our Sports and Fitness festival, students (1st through 5th grade) have the opportunity to individually select two activities which are of interest to them. (This is one of the NASPE Appropriate Practices for Field Days). Each student can participate in two 40 minute activities during the afternoon event. The activities expand upon skills taught in physical education or allow students to try something new.
Here is the time line for how the Sports and Fitness Festival is organized.
Two or more months before the event:
I began calling community resource people to serve as the activity presenters. I searched among parents, community and government organizations such as the YMCA and Parks and Recreation Department, and local businesses such as a fly fishing shop. This year I was able to find presenters for the following activities:
kite flying
lacrosse
bicycle safety/rodeo
wall climbing (brought a portable wall)
step aerobics
basketball
fencing
fly fishing, and
in-line skating
In addition, bowling was offered because there is an alley within walking distance. Parachute and earthball activities were presented by a small group of fifth graders.
Three weeks before the event:
Classroom teachers signed up for an activity to chaperone. Their role was to supervise behavior. Fifth graders also served as hosts/hostesses for the presenters from the community.
Two weeks before the event:
During Physical Education classes and students reviewed the choices available to them (some activities were only available to upper grades) and signed up for their choices. I asked students to circle five activities they would like to do, although they would only be scheduled for two.
I placed students in their activity choices for two 40 minute time slots. Because each student had given five activity options, I did not have to place any students in activities they had not chosen. I also followed up with students who had been absent on the selection day. I entered the information in a database.
One week before the event:
I printed rosters for each classroom teacher indicating which activities his/her students would be doing. I printed activity rosters for each time slot. And I printed name tags (first name only) for all the students which also listed their two activities and the locations. These were a big hit with teachers as they could easily help students find their way to their activity.
The day of the event:
Appropriate equipment (many presenters brought their own) was delivered to each venue. All the students gathered on the playground and then proceeded to their first activity. At the end of the first activity period, specialists and administrators helped students find their way to their next activity. The day concluded with a frozen treat back in the classrooms.
My students and faculty enjoy this event because of the opportunity for individual choice. I like it because it reflects the goals I have for my physical education program and the opportunities for participation are maximized.
Additional Information:
One of the reasons I can do this event is that there are only about 200 students involved. However, it could be adapted for larger school populations. Teachers might offer this type of event only to specific grades. The capacity for each activity could be increased (my activities were limited to classroom-sized groups of children). You could also have the community presenters format, but have classes rotate to each activity if individual choice was not possible.
I would be happy to provide others with copies of the paperwork I use to organize the event. Please e-mail me at lhinman@nedcomm.nm.org
Submitted by Laurie Hinman who teaches at Sunset Mesa Schools in Albuquerque , NM . Thanks for contributing to PE Central! Posted on PEC: 10/27/2000. Viewed 149233 times since 8/24/2001.
Sports and Fitness Festival

---
Previous Comments:
Stephanie

I tried emailing the contact information at the bottom. It came back as undeliverable. Is there a way to contact this contributor? I loved the idea and wanted more information. Thank you. Sliel@egusd.net

josh
chris valdez

i do an after-school martial arts program. Im looking for a martial arts curriculum. can you help? I did like the activity and thought it was well thought out. excellent,

chris valdez tycoa7@aol.com
---
---