Name of Activity:
Mulberry Hide and Seek
Purpose of Activity:
To have children practice body and space awareness. Listening skills are also reinforced.
Prerequisites:
Children need to be able to move safely around objects without running into them.
Suggested Grade Level:
PreK
Materials Needed:
Any lively music is fine, 6-8 folding mats standing on their sides to create short walls, distributed randomly throughout the gym. Need to accordian them a bit, so they don't fall over easily.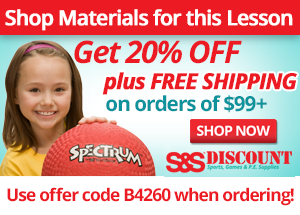 Description of Idea
Play music with a lively beat. As the music plays, students move (teacher choice--walking, skipping, etc.) around in one direction behind the mats without touching them. When the music stops, the children hide behind the closest mat. (There may be 1 or more students behind a mat. Students either squat or stand but should not touch the mats.) The purpose is for the children to be quiet and hide.
The teacher stands in the middle of all the mats and sings, "Round and Round the Mulberry Bush, the Monkey chased the weasel. The monkey thought it was all in good fun. Pop! Goes The Weasel." At "Pop! Goes the Weasel", the children all jump out sideways from behind the mats and scare the teacher. The teacher acts totally surprised and the procedure begins again.
Assessment Ideas:
Do the children stop and start running on the musical signals?

Do the children exhibit a contrast in force between the time they are hiding and the time they jump out to scare the teacher?
Adaptations for Students with Disabilities

Educational assistant can push a wheelchair around.

A bell can be taped to several of the mats and rung so visually disabled students know where to hide.
Submitted by Roxanne Lukes who teaches at Bryn Mawr Elementary School in Minneapolis , MN . Thanks for contributing to PE Central! Posted on PEC: 11/12/2000. Viewed 66841 times since 8/24/2001.
Mulberry Hide and Seek

---
Previous Comments:
There are currently no comments to display. Be the first to add a comment!
---
---