Name of Activity:
PE Laws of the Land
Purpose of Activity:
To maintain a positive and productive learning environment which allows for more moving time and less "TALK" time.
Suggested Grade Level:
K-5
Materials Needed:
Posters indicating the "PE LAWS of the LAND" posted ALL around the activity area.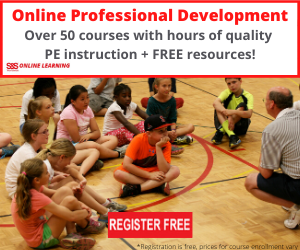 Description of Idea
Posted around the room are the PE LAWS OF THE LAND:

LISTEN ACTIVELY... (Focus & follow directions)

BE NICE to classmates

TRY YOUR BEST & BE SAFE!

EVERY day the students come to PE we practice the LAWS and their "SECRET SIGNALS". The teacher does the following:


"grabs" their ear when they want students to LISTEN;

pats their shoulder when they notice students BEING NICE; and

make fists and flex biceps when they notice students TRYING THEIR BEST & BEING SAFE!
These secret signals can be done by the students as well.
They are taught so that during instruction the TEACHER can use EYE CONTACT or a student's name and the SECRET SIGNAL without STOPPING or interrupting the LESSON being taught!!
ALL three METHODS of LEARNING are being incorporated (VISUAL, AUDITORY, KINESTHETIC) during the INITIAL LEARNING OF THE LAWS. At the beginning of EVERY class, the first few weeks of school, we PRACTICE our LAWS by seeing them posted, saying them and DOING the secret signals!
If the LAW is broken there is the ONE verbal/ visual reminder, and if continued they must go fill out a "TICKET" for breaking whatever law and have that signed by their parents! The "TICKET" is an EXCELLENT way for me to communicate with the parents!! As one Mom said to me, the LAST thing they come home "BRAGGING" about is being TIMED OUT in PE, SO this was MY SOLUTION!
Assessment Ideas:
Call out the LAW and have every child show the "secret signal".
Submitted by Heide Barcalow who teaches at Edgewater Public in Edgewater , FL . Thanks for contributing to PE Central! Posted on PEC: 10/5/2000. Viewed 32486 times since 8/24/2001.
PE Laws of the Land

---
Previous Comments:
There are currently no comments to display. Be the first to add a comment!
---
---