Name of Activity:
Terminator
Purpose of Activity:
To have students practice throwing and catching accuracy in a fun and active game.
Activity cues:
Throwing:
focus stepping with opposition, side to the target and follow through.
Catching:
concentrate on finger position for high (pinkies up) and low catches (pinkies down).
Suggested Grade Level:
4-5
Materials Needed:
A hoop, barrel, or net for a target, 4 bases, a ball of your choice for the students to throw, a hoop (or a jump rope formed in a circle) for the "terminator" to stand in for every 4 students. Large field.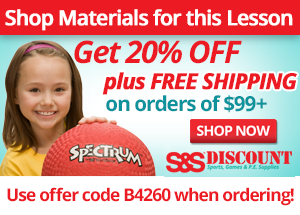 Description of Idea
Set up the bases as in baseball. Students can choose how far apart to put these or the teacher can designate the distance. Divide class into groups of 4. Each group of 4 will play their own game, so that multiple games are possible. Within each group, you have 1 thrower, 2 fielders and 1 terminator. The terminator stands inside the hoop where a pitcher would stand. They can have one foot come out of the hoop but otherwise can't move the hoop. The target (barrel, net, or hoop) is located 15 feet from the terminator, but can be shortened if needed.
To start the activity, the batter throws the ball anywhere in the field (behind, forward, sideward). Encourage throwers to throw to "Open Spaces" and to use opposition and trunk rotation to increase the distance of their throw.
The thrower then runs to all 4 of the bases and continues until the fielders throw the ball to the terminator who in turn throws it into the "Target" for the "out". Stress quality of throws to the terminator, because they can not leave their hoop. For the most accurate throws, the terminator should follow through as they release the ball. If the fielders have trouble with the throw to terminator, it is possible for the thrower to go around the bases several times.
If your students keep score, it can be the number of bases the thrower was able to touch before the ball went into the "Target". If the terminators throw doesn't go into the "Target", the fielders must retrieve and throw to the terminator and try again. The fielders must spread out for good coverage. After one thrower has a turn, another person in the group gets a turn as thrower.
Variations:
Once comfortable with the game, allow throwers to choose the ball (tennis balls, racquetballs, footballs etc...) they will throw.
Choose a different skill such as kicking or punting.
Maybe limit the type of throw to be just a chest pass as in basketball, therefore students would need to use a playground ball.
Submitted by Francis Aldrich who teaches at Flaherty Elementary School in Braintree , MA . Thanks for contributing to PE Central! Posted on PEC: 8/20/2000. Viewed 96236 times since 8/24/2001.
Terminator

---
Previous Comments:
There are currently no comments to display. Be the first to add a comment!
---
---