Name of Activity:
Inside Out Tennis/ Fitness
Purpose of Activity:
Students have an opportunity to handle a tennis racquet and tennis ball, to work on control as well as working on hand-eye coordination.
Prerequisites:
Students would have learned the proper grip of a tennis racquet, as well as basic safety when using racquets within a large group.
Suggested Grade Level:
3-5
Materials Needed:
Tennis racquets
Tennis balls
Polyspots
Handout for the activity
Projector
Tabata music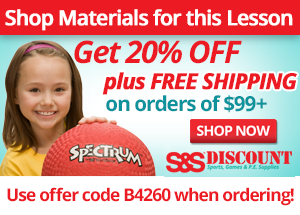 Description of Idea
I received training and equipment for my school through Net Generation from the USTA! I used many of their ideas for lessons and activities, but needed to use this 'Inside Out' set up to accommodate the large number of students we have in the gym at one time. I hope you like what I have designed.
We have 50 students in our gym at a time, so I designed this activity to allow 25 of them to be practicing with a tennis racquet at a time while the others work on personal fitness. For setup I place 25 polyspots evenly spaced around the perimeter of the gym and I have the Handout projected on the screen in the front. I have the racquets and balls in buckets/ baskets in the center of the space.
After a warmup activity, I ask the students to find a partner and sit near one of the spots. I go over the posted tennis 'challenges' by demonstrating and giving cues. I walk through the procedure so that students understand that one of them will be entering the middle of the gym space to work on a tennis skill and the other will stay at the perimeter working on fitness. For safety purposes, the student with the tennis racquet must come back to the polyspot to do the exchange of equipment between each round. No one should be in the center space without a racquet.
I use Tabata music (Music with preset breaks) during this activity, so the first 20 seconds say 'get ready' which allows the first group of students to get the racquet and ball and secure a space. When the music says 'work', everyone gets busy. When the music says 'rest', the student with the racquet returns to the polyspot and passes it to his/her partner. For example, during the first round one student is working to balance a tennis ball on the strings of the racquet- whether standing still or moving at a speed of their comfort- while their partner is on the perimeter holding a plank position. They switch roles and then move on to the next row. Since students have only 20 seconds to work on each challenge, I like to run through the Tabata twice. If time is short, I run through it only once and then allow a bonus (6th) round where students can choose the one skill out of the 5 listed that they'd like to repeat/ work on improving.
Variations:
While students are allowed to choose their own partners, the teacher could also help to make a match if a student with less attention / focus needs a strong role model as a partner. Having the challenges posted while the students work should also be helpful so that they can refer back to the given directions. It may also help to have visuals for each challenge. Last, you could have alternative equipment on hand (ex: balancing a koosh ball would be easier than balancing a tennis ball).
Teaching Suggestions:
Observation! I look for ball control as well as progress from one round to another.
Submitted by Heather Golden who teaches at Dominion Trail Elementary in Ashburn, VA. Thanks for contributing to PE Central! Posted on PEC: 5/16/2018. Viewed 9913 times since 4/22/2018.
Inside Out Tennis/ Fitness

---
Previous Comments:
There are currently no comments to display. Be the first to add a comment!
---
---