Name of Activity:
Fitness Super Heroes Tag
Purpose of Activity:
To have students identify the fitness components of flexibility, strength and aerobic endurance by participating in various fitness activities and then identifying them.
Prerequisites:
Fitness Super Hero Rap & Dance found on PE Central
Suggested Grade Level:
3-5
Materials Needed:
3 different colored vests
foam frisbee marked with the words "Video games"
1 deck ring
pool noodle cut in half
Jump ropes
3 pocket dice
Dice task card sheet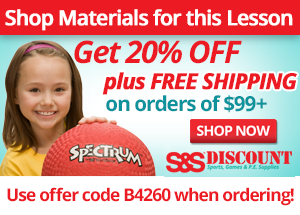 Description of Idea
Before partaking in the activity warm up to the Fitness Super Hero Rap found on PE Central.
Choose 3 students to be the Fitness Super Heroes: Captain Cardio, Fantastic Flex and Super Strength. I made capes for them to wear.
Assign a jersey color for each super hero (Red-Cardio/Aerobics, Yellow- Flexibility, Blue-Strength).
Choose 3 students to be villains: TV / Video games (foam Frisbee with Video Game written on it), junk food (deck ring representing a donut) and cigarette (fun noodle).

When a student is tagged they freeze and put their hands on their head. They can be freed by a Fitness Super Hero. The super hero does their super power action and then sends their power to the student frozen by extending their arms toward the student. Student must then go to the dice that corresponds with the Fitness Super Hero who is saving the tagged person to recharge and enter the game.
Fitness Super Hero Actions:
Captain Cardio: Run in place with both hands on heart and then extend arms sending tagged student to the aerobic endurance dice.

Fantastic Flex: Wiggle & Jiggle like cooked spaghetti and then extend arms sending tagged student to the flexibility dice.
Super Strength: Show "Muscle Man" pose and then extend arms sending the tagged student to the strength dice.
*If you don't have pocket dice you can assign a number 1-6 to each of the task cards and roll a regular die.
Variations:
Use different locomotor during the tag game.
Assessment Ideas:
At the end of class have students walk and talk with a friend discussing the question "What activities are aerobic? Strength? Flexibility?
Teaching Suggestions:
Fitness components: S3.E3.2a.2b.S3.E3.K
Submitted by Sandy Hagenbach who teaches at Heritage Elementary in De Pere, WI. Thanks for contributing to PE Central! Posted on PEC: 3/19/2018. Viewed 20760 times since 2/25/2018.
Fitness Super Heroes Tag

---
Previous Comments:
There are currently no comments to display. Be the first to add a comment!
---
---