Name of Activity:
What Level Am I? Basketball Dribbling Challenge
Purpose of Activity:
The purpose of this activity is to improve basketball dribbling skills and encourage students to challenge themselves. This lesson also gives the students opportunity to reflect upon their own ability level/self-assess.
Prerequisites:
Prior skill development with hand dribbling during K-2.
Suggested Grade Level:
3-5
Materials Needed:
A basketball for each student and a copy of the
challenge worksheet
(Word document so you can edit the file) for each student.
Skill Assessment Checklist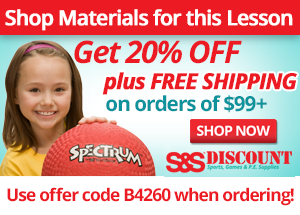 Description of Idea
Since this lesson is done on an individual basis and all students are participating, the teacher is able to give individualized instructions and feedback. This is a great way to evaluate your students so you know where you need to start appropriate tasks with each student.
After discussing the key concepts of dribbling and giving demonstrations, each student will receive a basketball and a copy of the basketball dribbling challenge worksheet. The students work individually on the challenges to see how many they can complete in the time given. Students must master the challenge before moving on to the next one (no skipping challenges). Each level gets more difficult so even your more advanced students will benefit and be challenged.
Assessment Ideas:
Use this skill checklist - Head/Eyes Up, Use Fingerpads, Keep Ball Waist Height. Videotape (or use Coach's Eye App) observations that you can show students so they can reflect upon their own performance.
Adaptations for Students with Disabilities

Based on the disability you could create a personalized challenge worksheet for individual students.
Submitted by Kristy Chaffin who teaches at Floyd Elementary School in Midland, MI. Thanks for contributing to PE Central! Posted on PEC: 1/8/2018. Viewed 31127 times since 1/5/2018.
What Level Am I? Basketball Dribbling Challenge

---
Previous Comments:
| | |
| --- | --- |
| Sariyah johnson | This is a good for me because I would like to learn new stuff about basketball I think it's good for me because I don't really know that much stuff about basketball. |
| Lyn | This was great! My 3rd-5th grade students had a lot of fun with it. Great idea, thank you! |
---
---