Name of Activity:
Sling Shot Bowling (non-ambulatory) Adapted PE
Purpose of Activity:
To have students of any age or ability be able to bowl. Bowling while building muscle.
Prerequisites:
Understanding the basic concept of bowling, will help in the cognitive relation between the sling shot and the bowling pins.
Suggested Grade Level:
K-12
Materials Needed:
PT band / exercise band
bowling pins
desk/chair/peers
yarn balls, foam balls etc.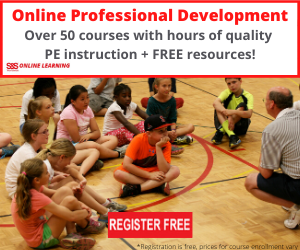 Description of Idea
The basic idea of this activity is to have students of any age or ability be able to bowl!
- PT band will be tied horizontally to two legs of a desk or chair, or have two other peers or staff hold each side of the PR band until PT band is tight.
-Place yarn ball in middle of PT band, and enclose the ball into the PT band at best of ability
-Student with one or two hands will pull back PT band creating tension.
-While aiming towards bowling pins, student will release grasp of ball in PT band.
-With correct aim and a little practice students will be able to pull, aim, let go and bowl!
-For students requiring visual aid for best practice, put poly spots in straight line from PT band to cones / targets so students can visually see correct pathway.
-Grasping the PT band can be done in multiple ways, targeting different muscle groups as well as being able to accommodate a wide range of learners.
Modifications:
Depending on students level of strength, PT bands come in various weights so use them with different children if you wish.

Assessment Ideas:
-Assessment ideas can be asking students:
-Q: How can you make the ball go farther?
-A: pulling the PT band back farther
-Q: what muscles are we using by pulling back the band ?
-A: muscles in our hands, biceps, triceps, back muscles
Teaching Suggestions:
For students in wheelchairs, staff can stand on either side holding PT band and have student pull back band or have student grasp ball in PT band and have staff walk forward creating tension.
If student is sitting on gymnastics mat, tie band to legs of chair horizontally and student can sit and pull PT band back towards pins or target.
Submitted by Jameson Flynn who teaches at Fall River Public Schools in Fall River, MA. Thanks for contributing to PE Central! Posted on PEC: 12/6/2017. Viewed 18148 times since 11/2/2017.
Sling Shot Bowling (non-ambulatory) Adapted PE

---
Previous Comments:
There are currently no comments to display. Be the first to add a comment!
---
---