Name of Activity:
Statues at the Museum
Purpose of Activity:
Assessment (formative or summative) of yoga poses.
Prerequisites:
Basic knowledge of proper form of multiple yoga poses.
Suggested Grade Level:
3-5
Materials Needed:
A flashlight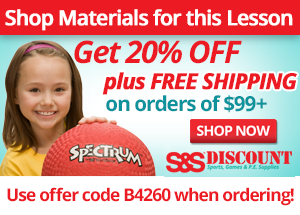 Description of Idea
Give the students a certain number of poses you would like them to attempt during the activity. Select one student to be the "night guard" at the museum (they get the honors of holding the flashlight). Students spread out through the classroom, as the guard is facing the board counting down from 10. Meanwhile the rest of the class is getting into their initial yoga pose (teacher dims the lights). When the guard gets to 1 he/she turns around and says "the museum is open". As the guard walks around the "museum" shining the flashlight on the statues, the "statues" take any chance they can get to change poses, when the guard is not looking. However, if the statue gets caught changing poses he or she has to rest in "child's pose" until the next round.
Students should take the opportunity to change poses when the "night guard" is not looking. Discourage the students from staying in the same pose the entire time.
You can make the game more challenging if you create different parameters for each round like "must use a partner yoga pose, or only balancing on three limbs, use an animal pose...etc."
Change the guard frequently(every minute or two) and start the activity all over again.
Assessment Ideas:
Assessment is easy with this game. Have a check list handy and the teacher can clearly see who is doing the poses correctly as well as how many poses they successfully demonstrate. Depending on the rubric there are several different opportunities for assessment.
Submitted by Emily Slater who teaches at University Academy Charter School in Lees Summit, MO. Thanks for contributing to PE Central! Posted on PEC: 5/24/2017. Viewed 21164 times since 3/19/2017.
Statues at the Museum

---
Previous Comments:
There are currently no comments to display. Be the first to add a comment!
---
---