Name of Activity:
Cross the River Cooperative Activity
Purpose of Activity:
To teach students to work together cooperatively and think outside the box.
Suggested Grade Level:
3-5
Materials Needed:
Polyspots
Gymnastics mats
Aerobic steps
You can modify and adjust based on the equipment that you have available.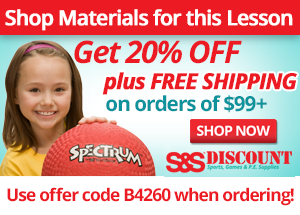 Description of Idea
For this activity the students will work together to try and cross a toxic river without falling.
After completing Level 1 students will discuss strategies, then they will attempt progressing levels of difficulty as the activity becomes more and more challenging. See set up and guide below along with a video of the activity.
Detailed activity guide and setup (Opens new window and takes you outside of PE Central)
Video
Teaching Suggestions:
Questioning for your students to use at closure or you can make up a written assessment:
- What strategies did your team use to get across the river?
- What problems did you have to solve and how did you solve them?
- What was one way you worked through a frustration that your team had?
Adaptations for Students with Disabilities

Allowing more spots or declaring that wheelchairs have "magic" wheels that allow them to float on top of the water.
Submitted by Ben Landers who teaches at River Springs Elementary in Columbia, SC. Thanks for contributing to PE Central! Posted on PEC: 3/20/2017. Viewed 78549 times since 3/15/2017.
Cross the River Cooperative Activity

---
Previous Comments:
---
---