Name of Activity:
Fitness Chutes and Ladders
Purpose of Activity:
To increase heart rate and work on improving fitness levels.
Prerequisites:
Students should be familiar with exercises that are written on the plates so that they know what to do when they get there.
Suggested Grade Level:
3-5
Materials Needed:


Hula Hoops
plastic plates
dice
mats
fitness equipment chosen to match exercises written on the plates. (see images below)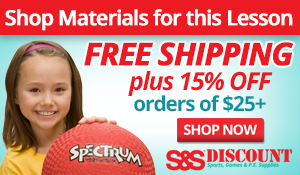 Description of Idea
After you set up the gym, the students travel around the game board like game pieces. They roll the dice and move the given number of spaces. If there is a plate with an activity listed, students complete the task, roll again and move on. There are many exercises written on plates and scattered through out the playing area. If students land on 1 of the 4 CHUTES, they move (use locomotor skills like leaping, galloping, bear walking, etc.) to the middle of the gym where they complete another task and then head to the specified corner 1 through 4 and continue on. Students work in pairs for this activity.
Pictures
Assessment Ideas:
Ask the kids to take their heart rates before they start. Measure them at different times and have them write them down. Review at end to see when their heart rates were up.
---
Submitted by Nicki Case who teaches at Marion Elementary School in Marion, KS. Thanks for contributing to PE Central! Posted on PEC: 2/3/2017.

Viewed 22105 times since 1/23/2017.
---
---
Previous Comments:
Nicki Case

Jennifer - this is in response to your comment. The 4 corners are merely a place for you to go to once you have been sent to the middle to do an activity. Each activity plate sends you to a certain corner just to get you back out on the playing area. I have a set of dice on the corners as well.

Jennifer

I really want to try this game, but I'm not 100% sure what the 4 corners are for...I also was wondering if there is a finish like the board game? Any suggestions would be great!

Tara Weaver

What a fun game! It is a fun way to do a stations activity.

I modified the game slightly to fit my equipment accessibility.
I placed large cones on the sidelines of a basketball court located under the baskets and at the half court lines. Each cone had a directive as to how they would travel to the center circle. Kids then drew cards for their center activity (one lap around the court on a trike; crawl through a cloth tunnel 10 time; bounce a rubber ball 25 times, etc) and then were directed to a corner where they rolled their die for their next moves. I used this for k-3 Special Day class with about 10 kids, individually, rather than the suggested 3-5 grades in pairs, and it worked well. Each person definitely need a die. I only put out 20 spots which included the corner hula hoops (as play spaces) and cones, as aforementioned. Toward the end it got kind of chaotic, and many were not playing by the rules, but everyone was having so much fun between frog hopping, zombie walking, hoop jumping, tunnel crawling, etc. that the game became more fun by jumping from activity to activity.

I should mention that the activity was set up rather last minute and I wrote out about a dozen activity cards. Even last minute it took about 20 minutes to write cards and setup. Next time, I will have picture activity cards and a die for everyone so that the helpers don't get so worn out.

Thanks for the great idea!!!