Name of Activity:
Hula Hoop Planking
Purpose of Activity:
Hula Planking encourages students to work together as a team while increasing their upper body strength.
Prerequisites:
Students must first develop enough core strength to hold a high plank position.
Suggested Grade Level:
3-5
Materials Needed:
1 Hula Hoop for each set of partners. 1 timer (I use the Tabata Timer App)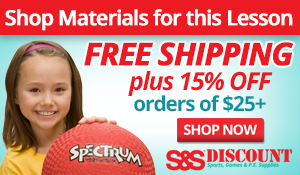 Description of Idea
Divide the class into sets of partners. Each set of partners retrieves one hula hoop. The goal of the activity is for partner A to pass a hula hoop over partner B, who is holding a high plank (push up) pose, as many times as possible in 30 seconds. After the first 30 seconds, partners have 3 seconds to switch roles. The process is then repeated with partner A holding the plank and partner B passing the hoop. You can have the students do several sets depending on the grade level and strength of the students.
Variations:
Students can pass the hoop in the reverse direction.
Students can hold a crab pose as the hoop passes.
Extend or shorten the time depending on the group.
Assessment Ideas:
To assess, walk around the room looking for proper plank poses. Encourage students to stay in one spot rather than walking their plank forward as the hoop passes under them. Encourage them to carefully lift each hand, then each foot to maintain a strong plank.
---
Submitted by Justin Cahill in Marietta, GA. Thanks for contributing to PE Central! Posted on PEC: 8/31/2016.

Viewed 32372 times since 8/30/2016.
---
---
Previous Comments: