Name of Activity:
Knock Down Hockey Passing
Purpose of Activity:
To practice hockey passing; specifically the proper technique, while improving accuracy, without pressure from defenders.
Prerequisites:
Proper grip of the stick and passing
Suggested Grade Level:
3-5
Materials Needed:
12-18 plastic cups (half red, half blue and the cups should be as big as possible) 1 hockey stick per student, enough hockey pucks or balls for about 2/3 of the class (fleece balls actually work well for this activity because they will be less likely to break the cups) and about 20 poly spots.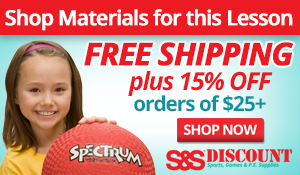 Description of Idea
1) Divide the class into two teams
2) Set up the cups along the half court line, alternating between red and blue.
3) One team will stay on one side of the court, the other team will be on the other side.
4) The students will move back from the half court line about 10-20 feet. The polyspots can be used to remind them where they can pass from.
5) One team will try to knock down the red cups, the other will aim for the blue ones. If they accidentally knock down the wrong color, the cup stays down.
6) The students stay on their side of the court. There will be plenty of balls moving back and forth.
7) The first team to knock down their color of cups wins.

Assessment Ideas:
Teacher checklist:
1) Does the student "shake hands" with the stick, with the less dominant hand at the top and the dominant hand about shoulder width apart, lower down the stick?
2) Are the knees slightly bent?
3) Is the student stepping forward with the opposite foot as they pass?
4) Is the blade staying close to the ground? And facing the direction of the intended pass?
Adaptations for Students with Disabilities:
Students may use a lighter weight stick or shorter. They may use a lighter weight or bigger puck/ball.
They may also use a larger target, such as an empty 2 liter soda bottle.
---
Submitted by Elaine Quraishi who teaches at Hill Field Elementary in Clearfield, UT. Thanks for contributing to PE Central! Posted on PEC: 9/6/2016.

Viewed 13714 times since 8/30/2016.
---
---
Previous Comments:
There are currently no comments to display. Be the first to add a comment!