Name of Activity:
Types of Fitness Check
Suggested Grade Level:
K-2
Materials Needed:
Open area for movement and list of ideas for teacher to use to check types of fitness.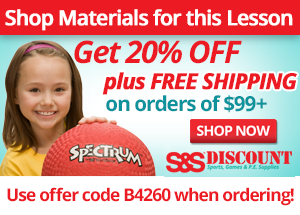 Description of Idea
For this warm-up activity you will have the students do an exercise and then all come to a huddle and put their heads down and hold up a 1, 2, or 3 with their fingers to tell what type of fitness they were just working. The following shows what each number stands for:
1 = cardiovascular fitness
2 = muscle fitness
3 = flexibility
For example: the teacher tells the students to run one lap around the gym. Then students run one lap, huddle by the teacher, put their heads down and close their eyes. The teacher would say, "show me your number" and the students would hold up the finger that they felt running worked on. The teacher would be able to see that most students would hold up a 1 showing that running works on cardiovascular fitness. This also allows the teacher to see if there are any students who are struggling with the types of fitness.
Variations:
Other ideas:
skipping- 1 cardiovascular fitness
galloping- 1 cardiovascular fitness
push-ups- 2 muscle fitness
sit-ups- 2 muscle fitness
butterfly stretch- 3 flexibility
arm stretch- 3 flexibility
Teaching Suggestions:
This activity is great because it is a quick and easy way for the students to show their answers privately without other students being able to see.
Submitted by Nicole Juergensen who teaches at West Elementary in Hutchinson, MN. Thanks for contributing to PE Central! Posted on PEC: 7/20/2016. Viewed 22135 times since 7/19/2016.
Types of Fitness Check

---
Previous Comments:
There are currently no comments to display. Be the first to add a comment!
---
---